By Megan Parks





(Budget Travel) -- The St. Louis beer scene has evolved from its Budweiser roots and now centers on atmospheric pubs that brew their own beer for patrons and, sometimes, local retailers.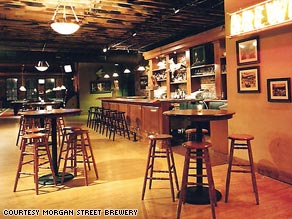 Morgan Street Brewery is in Laclede's Landing, an area crowded with bars and clubs.
The Schlafly Tap Room
St. Louis's first brewpub, which opened in 1991, has a traditional pub atmosphere: Classic dishes like bratwurst on a bun and beer cheese soup are served in a dark, noisy, and sometimes smoky environment.
What to drink: The six year-round brews are predominantly ales, and seasonal drinks like the winter Belgian Triple (a rich, fruity golden ale) tend to dry up quickly. Budget Travel: Drink beer better
Extras: Live pop/rock/alternative music Friday and Saturday nights and blues on Sunday nights with no cover; a patio. 2100 Locust St., 314/241-2337, schlafly.com.
Schlafly Bottleworks
Bottleworks has won over hipsters thanks to farmers markets in the parking lot, screenings of the "Three Stooges" and Strange Brew -- a series of cult films like "Slapshot" -- and a vegan- and vegetarian-friendly menu (the pistachio ravioli is a favorite).
What to drink: The amber, mildly hoppy pale ale and the full-bodied oatmeal stout, a caramel malt and roasted barley blend.
Extras: Live folk and bluegrass bands Thursday through Saturday with no cover; a patio with a fire pit -- staff will build a fire for you. 7260 Southwest Ave., Maplewood, 314/241-2337, schlafly.com.
Wm. D. Alandale's Brewing Company
Located in the subdued suburb of Kirkwood, Alandale's tends to be less crowded, and its patrons tend to be a bit older. Large windows overlook the historic downtown -- handy for people-watching.
What to drink: The beer list is a fairly even split between lagers and ales. Chocolate lovers must try the white chocolate raspberry cheesecake served with the oatmeal stout ale -- heaven.
Extras: Live music on the weekends with a $5 cover; a patio. Happy Hour 3:30 p.m.-7 p.m. and 11:30 p.m.-1:30 a.m. Monday--Friday, $2.50 pints. 105 E. Jefferson Ave., 314/966-2739, alandalebrewing.com.
Morgan Street Brewery
Morgan has a smaller beer selection but the most diverse decors: an intimate martini lounge, a dance floor with a DJ, and an upper back patio where you can tuck into a burger while watching the sun set over the city skyline. Morgan is in Laclede's Landing, an area crowded with bars and clubs, and gets jam-packed on weekends.
What to drink: Sample the Irish stout, which tastes of fairly bitter coffee and chocolate, or the lightly flavored honey wheat lager from North America's youngest master brewer, Marc Gottfried, promoted at age 22.
Extras: Patio. 721 North Second St., 314/231-9970, morganstreetbrewery.com, closed Mon.
Square One Brewery
The owners of Square One, in the historic Lafayette Square neighborhood, jazzed up its 19th-century brownstone with earth tones and an elegant slate and hardwood bar that stocks a range of brews, predominantly ales.
What to drink: Experiment with the Bavarian Weizen, which has an unexpected pairing of banana and cloves, or bottles of the Winter Ale, a festive combo of cinnamon, nutmeg, and almond. Happy Hour 4 p.m.-6 p.m. Monday-Friday, $3.25 pints.
Extras: A patio. 1727 Park Ave., 314/231-2537, squareonebrewery.com.
E-mail to a friend

Get the best travel deals and tips emailed to you FREE - CLICK HERE!
Copyright © 2009 Newsweek Budget Travel, Inc., all rights reserved.
Note: This story was accurate when it was published. Please be sure to confirm all rates and details directly with the companies in question before planning your trip.
All About Travel and Tourism