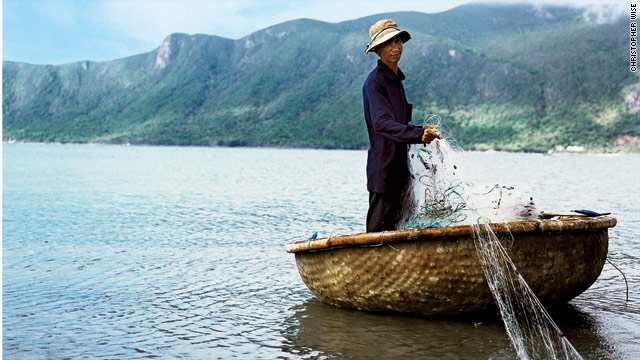 STORY HIGHLIGHTS
Explore some of the unknown hideaways of Southeast Asia
The list includes places in Vietnam, Cambodia and Thailand
(Budget Travel) -- Odysseus had his quest, Naomi Lindt had hers: to scout and explore the next great islands of Southeast Asia, from an untouched Cambodian hideaway to a foodie's paradise off the coast of Vietnam.
Ko Kut, Thailand
The eco adventure
It only took a few hours of exploring Ko Kut's west coast on a motorbike -- driving along unmarked, sandy tracks to crescent-shaped beaches -- to pinpoint what made this island so special. Wherever I went, I was utterly alone. Where were all the sunburned tourists, souvenir shops, and bars selling cheap beer?
It's no accident that Ko Kut -- Thailand's fourth-largest island, with a population of 2,000 -- has dodged the country's notorious trend toward overdevelopment. "People are afraid of the environmental destruction they've seen in the region, and they're actively working to prevent it here," said my guide, Jeremy Morin, when I met him for lunch my first day (011-66/87-083-1404, full-day tours from $25 per person). He told me about the island's solar-power plant and noted a few other, smaller, ecological triumphs. When one of the resorts brought in Jet Skis, residents were up in arms and successfully blocked their use. The Koh Kood Beach Resort, where I spent the night, has launched its own initiatives: The owners are installing recycling bins in their eight thatched-roof Balinese-style bungalows and eight Thai-style wooden houses, and their dive shop's instructors teach guests how to collect plastic waste underwater (kohkoodbeachbungalows.com, doubles from $65).
Budget Travel: Check out these photos of a castaway's fantasy
The next morning, Jeremy took me around on his scooter so I could see firsthand what's at stake. We drove along a thrilling, narrow path that hugged the southern coastline and then turned up a rocky road to Ao Yai village, a former pirates' haven. Ten miles away, Jeremy showed me a path into the jungle, and we hiked half a mile to the three-tiered Klong Chao waterfall, which is framed by hanging vines and cascades into a large freshwater pool that's perfect for swimming. The unchecked nature was breathtaking, as worthy a site for preservation as I'd ever seen.
Ko Mak, Thailand
Ko Samui 20 years ago
As he stood on an untouched plot of golden sand looking out over the Gulf of Thailand two years ago, Paul Inman knew he'd found his new home. For two decades, the 45-year-old had fantasized about leaving his job as an investment banker in London and opening a beach resort in Thailand -- somewhere secluded, spectacular, and affordable. After a friend suggested he check out Ko Mak, the wait was over. "You just don't find places like this nowadays," Inman recalls thinking. In October 2008, Inman and his Thai girlfriend, Noodeng, opened the Big Easy restaurant and hotel on that very spot, Ko Mak's Ao Katueng Beach (bigeasykohmak.com, doubles from $36). The hotel's six sea-facing bungalows have redwood decks, 13-foot-high bamboo ceilings, and bathrooms tiled with local black slate; the place fits in nicely with Ko Mak's 21 other hotels, most of which are still owned by the island's original families, not big Bangkok investors.
Budget Travel: Tricks for navigating Southeast Asia's islands
Services on the 10-square-mile island (population 450) are minimal but hit all the key needs: food, entertainment, massage. At Monkey Island Resort's Orang Utan Bar on the main drag, Ko Mak's star musician, the dreadlocked and often bare-chested Mr. T, performs his original ballads about island life nearly every night an essential Ko Mak experience (monkeyislandkohmak.com). Another local favorite is the family-run Peaw Restaurant, whose decorative centerpiece is a large portrait of the Thai king (on the road to Ao Nid Pier, entrées from $1). When I stopped for lunch, the owner sent her eager 12-year-old son over to offer recommendations. On his advice, I ordered a pork curry with piles of fresh, crushed pineapple in a spicy and sweet coconut sauce. It ranked as one of the best curries I've ever had; I even took photos of it, much to the amusement of the people sitting around me.
Ko Yao Noi, Thailand
The final frontier
Jaded island-hoppers often lament the disappearance of the anything-goes, barefoot-friendly islands that made Thailand so famous, but that's just because they haven't been to Ko Yao Noi. At the edge of 155-square-mile Ao Phang-nga National Park, known for its looming limestone karst formations, Ko Yao Noi is the kind of place where pineapple farmers welcome casual strolls through their fields and water buffalo graze peacefully in impossibly green rice paddies. The island owes its tranquility to its rocky shores, caused by the same geological shifts that 10,000 years ago created Ao Phang-nga's dramatic, tree-topped stone towers. As one local told me, "If we had perfect beaches, this place wouldn't be the way it is."
Budget Travel: DIY island hopping
Not surprisingly, most of Ko Yao Noi's restaurants and hotels are set along the eastern edge of the island to capitalize on the views of the karsts. At Lom'Lae Beach Resort, for one, the 10 bungalows have bamboo furniture and king-size beds, and all are set right on the water (lomlae.com, doubles from $60). I signed up for a full-day long-tail boat tour around the island and park with a guide named Dani, who took me to secret caves and sand spits that emerge only at certain hours (011-66/87-292-1102, boat trips from $60). On one of our first stops, we squeezed through a narrow passageway between the rocks to a hidden, emerald-hued lagoon. Ours was the only boat there, and from the center of the lagoon, I couldn't even see how we'd entered -- not that I had any interest in leaving.
Koh Rong Saloem, Cambodia
The castaway fantasy
Storms in this part of the world come out of nowhere, as I discovered on more than one occasion. In minutes, the sky would turn from a perfect blue to a foreboding gray. Unfortunately, I happened to be the sole passenger on a 12-seat converted fishing boat en route to Koh Rong Saloem when I first experienced this phenomenon. One second, I was texting my husband farewell (the island didn't have cell service), and the next, I was gripping the side of the boat, life vest pulled tight, water whipping my face. Judging from the crew's smiles, I overreacted, but still, I was relieved when I spotted the 12 sun-beaten bungalows of Lazy Beach (lazybeachcambodia.com, doubles $25, entrées from $4).
Budget Travel: Going solo in Southeast Asia
Staying at Lazy Beach is like going to a tropical summer camp: The rooms are simple, with mosquito nets, double beds, and cold-water bathrooms, and the activity options consist of swimming, sunbathing, snorkeling, and hiking 20 minutes through thick jungle to the heart-shaped bay on the island's east side. For all practical purposes, Lazy Beach is the only establishment on the entire five-mile-long island. (Richard King, the proprietor, told me that a few families live at a small naval post not too far away, but I never saw any hint of them.) At night, guests congregate in Lazy Beach's open-air restaurant, lounging in papasan chairs, playing Scrabble, and digging into Cambodian dishes like amok, a curried fish wrapped in banana leaves, prepared by Lazy Beach's brother-and-sister chef team, Ken and Lina. The atmosphere is convivial -- I didn't eat a single meal alone -- and the talk revolves around gecko sightings and how to avoid leaving. From a mother-and-son duo to an English couple celebrating their anniversary, everyone I met extended their stay, and many discussed quitting their jobs to join the Lazy Beach staff, something that's happened more than once.
Koh Tonsay, Cambodia
The dreamy day trip
Like most visitors to Koh Tonsay (a.k.a. Rabbit Island), I came over for the day from the century-old colonial resort town of Kep, on the mainland, to take advantage of the immaculate beaches and broad expanses of shallow water. For about $1, I rented a bamboo platform shaded by towering palms and made it my home base for the day. I left it only to take cooling dips and to hike the rugged, two-hour loop around the perimeter of the one-square-mile island. A thatched-roof restaurant hut on the main beach served a delicious plate of grilled fresh prawns with black-pepper dipping sauce and sautéed bok choy, which altogether cost a couple of bucks. As evening approached and the day-trippers piled onto boats for the 30-minute ride back to Kep, I strongly considered canceling my return trip in order to spend the night in one of the six bare-bones cabins rented out by Rabbit Hut Bungalows (011-855/12-692-906, doubles $5, entrées from $3). They don't offer much in the way of comfort -- a pillow, a thin mattress, a mosquito net, a bare lightbulb, and a towel are the rooms' sole furnishings -- but I couldn't imagine a better way to have the beach to myself for the night. Remembering what awaited me back in Kep, I quickly sobered up and stuck to my original plan: a room at Veranda Natural Resort (veranda-resort.com, doubles from $30), where accommodations range from bungalows with ceiling fans and fluffy white linens to higher-end suites with air-conditioning and platform beds. Checking in at the Veranda, I felt as if I was entering a world of luxury, especially after Lazy Beach. I ended the day by walking to the dockside Knai Bang Chatt Sailing Club, a former fisherman's home turned restaurant, where the view of Koh Tonsay lit by a pink sunset was the ideal backdrop for unwinding with a rum-and-passion-fruit cocktail (knaibangchatt.com, drink $4).
Phu Quoc, Vietnam
The foodie's paradise
Vietnam is, in the best possible way, a country of food snobs. There's a non-negotiable way to prepare and consume every dish, from noodle soups to spring rolls; each has to have just the right balance of sweet, hot, sour, and salty elements. So I found myself being schooled on how best to eat the prawns at Bien Hai Quan restaurant on Phu Quoc, a 350-square-mile island about 31 miles off the west coast of Vietnam (Ganh Dau, 011-84/77-384-5423, entrées from $3). My guide, Thang, was eating the shrimp whole, crunching on the shells and legs. "They lose the salty taste if you peel them," he told me, between loud smacks. After eating the first one my way and leaving most of the tamarind coating behind, I followed Thang's lead. The taste was incredible -- an electric blend of flavors -- and the shell was much softer than I'd expected.
Food advice is not to be ignored here. After all, Phu Quoc produces some of the country's best peppercorns (the main ingredient for a dipping sauce I couldn't get enough of), along with Vietnam's finest fish sauce -- the equivalent of saying "Italy's top olive oil." On an all-day tour with Tony Travel, one of the longest-running operators on the island, I visited Buddhist temples and the 120-square-mile Phu Quoc National Park, and added stops at mom-and-pop pepper plantations and fish-sauce factories, where I surveyed gigantic vats of fermenting anchovies (100 Tran Hung Dao St., Duong Dong, 011-84/91-319-7334, tours from $15). The island's hotels cater to culinary tourists, too: At Cassia Cottage, where the 18 cheery rooms are decorated with lotus-printed bedspreads and white curtains, the owners get the ingredients for dishes like cinnamon-sprinkled okra from their own gardens and their vanilla and pepper plantations a few miles away (cassiacottage.com, doubles from $65).
Con Dao Islands, Vietnam
The second act
Talk about a reinvention. Known for decades only as the site of the country's most notorious prison, the 16 Con Dao Islands, clustered off the east coast of Vietnam, are angling to become the next Galápagos Islands. The 49,000-acre Con Dao National Park harbors a wealth of biodiversity. And of the more than 1,000 plant varieties, 1,300 marine species, and 160 different types of animals that flourish here, some, like the black squirrel, are unique to Con Dao.
I made my first stop at the park's headquarters in Con Son, one of the only places on the island where English is spoken. The park's staff set me up with a daylong guided trek through the jungle, which included a stop at a fruit plantation established by the French (where I fed bananas to monkeys), lunch with park rangers in the middle of the forest (after which we all curled up in hammocks for a quick nap), and a visit to a secluded beach. The following morning, I took a boat trip to the surrounding islands, including Bay Canh islet, which I'd heard has some of the best diving and snorkeling in Vietnam. Dolphins, sea turtles, and manatee-like dugongs make frequent appearances among the abundant coral reefs.
In the evenings, before turning in at the newly renovated Saigon Con Dao Resort on Con Son's main promenade (saigoncondao.com, doubles from $38, includes breakfast), I checked out the noodle stalls of Con Son Market and the Thu Ba Restaurant across the street. There, I did one last bit of animal-spotting, choosing my dinner-to-be from a prominently displayed tank: two live crabs, cooked to order (011-84/64-383-0255, entrées from $3).
Get the best travel deals and tips emailed to you FREE - CLICK HERE!
Copyright © 2011 Newsweek Budget Travel, Inc., all rights reserved.
FOLLOW THIS TOPIC