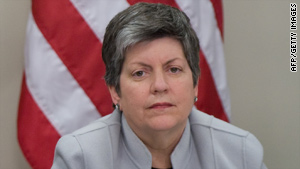 Janet Napolitano says there's no indication the failed Detroit attack was part of a broad international effort.
STORY HIGHLIGHTS
NEW: Screening procedures enhanced; more marshals put aboard
NEW: Homeland security chief says terrorist lists to be reviewed
Janet Napolitano says air marshals are assigned randomly
Current, former marshals take exception to Napolitano's claims
(CNN) -- Air travel security is being increased as authorities continue to question how a man got explosives on a U.S.-bound passenger jet, according to federal officials, including the president and his homeland security chief.
Homeland Security Secretary Janet Napolitano told CNN's "American Morning" on Monday that officials would review how anti-terrorist watch lists are maintained.
Umar Farouk AbdulMutallab, who is accused of trying to blow up a flight carrying 300 passengers, was on a general list that contained 550,000 other names, but he was still allowed to travel to the United States.
A senior administration official said the suspect was not on a no-fly list because "the info on him was not deemed specific enough to pull his visa or put him on a no-fly list."
"Under the existing protocols, it requires an interagency process and the identification of other negative information that's credible ... and that process whittles down from 500,000 [names] or so that are on the generic list to the fewer than 5,000 that are on the no-fly list," Napolitano said. "We are going to be looking at that process and how those lists are created, maintained, updated, exchanged and the like, because clearly this individual should not have been able to board this plane carrying that material."
AbdulMutallab is accused of trying to blow up a Northwest flight from Amsterdam, Netherlands, to Detroit, Michigan, on Christmas Day.
Officials say he carried an explosive device that contained pentaerythritol tetranitrate, an explosive also known as PETN. Part of the device, which failed to detonate, was sewn into his underwear, a law enforcement official said Monday.
President Obama, in his first public comment since the incident, said Monday that screening and security procedures for all flights were immediately enhanced, including an increase in the number of air marshals on international flights.
The federal system for tracking potential terrorism suspects will be reviewed because the latest incident showed that it had possible failings, the president said.

Video: Napolitano talks terror attack

Video: Airport security review ordered
All screening policies, technologies and procedures for air travel will be reviewed "to determine just how the suspect was able to bring dangerous explosives aboard an aircraft and what additional steps we can take to thwart future attacks," Obama said.
A Department of Homeland Security official who asked not to be identified said Sunday that the ranks of the air marshals have been increased by cutting vacations and leave, and by pulling in marshals from instructional and administrative posts.
On CNN's "State of the Union" Sunday, Napolitano said air marshals are assigned randomly to flights.
Current and former marshals contacted by CNN took exception to Napolitano's claims, saying that although there is an element of randomness to increase unpredictability, the assignments of air marshals are largely based on intelligence and an analysis of which flights are most vulnerable or most attractive to terrorists.
Despite a possible tragedy, Napolitano said the response system worked, as passengers and crew avoided panic and subdued the suspect while authorities notified other flights in the air of the situation and kept the air transport system operating.
"Once the incident happened, we were able to immediately notify the 128 flights in the air, as well as airports on the ground domestically, internationally, our law enforcement partners, other allies, institute immediate safe procedures to make sure that this could not happen on other flights and that people were watching out for it on other flights, even as we focused on what went wrong prior to this one," Napolitano added Monday.
The Transportation Security Administration invoked a "one hour rule" after the thwarted attack, which prohibited passengers on international U.S.-bound flights from leaving their seats during the last hour of a flight, sources said. In addition, passengers had to stow pillows and blankets, and maps viewed on in-flight entertainment screens were disabled during the final hour of flight.
The TSA has modified the rule, however, giving airlines and crews discretion over implementation, sources said.
CNN's Erin McLaughlin and Brian Todd contributed to this report.
FOLLOW THIS TOPIC