STORY HIGHLIGHTS
Couples recount stories of how they met while traveling
For many, the blueprint for travel romance is "Eat, Pray, Love," a memoir by Elizabeth Gilbert
She is now married to Felipe, the man she fell in love with in Indonesia
"It was a learning experience for both of us, so in the end love does conquer all," woman says
"Happiness is the consequence of personal effort. You fight for it, strive for it, insist upon it, and sometimes even travel around the world looking for it." -- Elizabeth Gilbert, "Eat, Pray, Love"
(CNN) -- Flowers and longing glances can help spark a romance for most people, but for a select few, a good love story starts with a passport.
It may be the excitement of an exotic location, the rush of being on your own or the thrill of meeting someone from a completely different culture -- a fateful encounter while traveling can make two people crazy about each other in a way few other pairings can.
So can the distance from home.
"I was 13,000 miles away from anybody who might have had any judgments on this, so I really got to know him and explore him," said Elizabeth Gilbert of Felipe, the Brazilian-born man she fell in love with in Indonesia, a courtship she recounted in her best-selling memoir, "Eat, Pray, Love."
"We had this huge amount of time together alone without the interference -- even if it's well meaning -- of family and friends, without the opinions of anybody else that we knew," Gilbert said.
"Eat, Pray, Love," which is being turned into a movie starring Julia Roberts, inspired some readers to try to re-create Gilbert's experiences in Italy, India and Indonesia.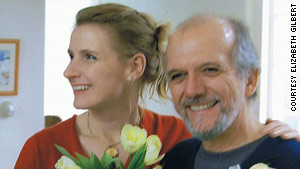 "Eat, Pray, Love" author Elizabeth Gilbert on her wedding day with Felipe, the Brazilian-born man she met in Indonesia.
Gilbert, who is now married to Felipe (she prefers not to give out his full name) and explores marriage in her new book "Committed," said she's more interested in people who use her memoir as an invitation to explore their own version of her journey.
She also urged prospective lovers to take their time.
"As Pamela Anderson said very wisely, never get married on vacation," Gilbert quipped.
"It's OK to fall in love, but don't make any big promises. Come home, take a break, make sure that this is something real and not just what the old novelists used to call a shipboard romance."
Author Elizabeth Gilbert was traveling solo when she met her future husband. Here, she talks about why that was important.

"You cannot have the experiences traveling with a partner that you have traveling alone. You just won't -- good or bad experiences."

"There's different kinds of travel for different purposes. I do think there's a certain time in life when it's a really wise thing, just as a human being, to kind of go out and put yourself in the world and see what comes."


Here are some couples who took that advice.
Loverly and Mikolaj
Loverly Jn Paul was on her way back to the United States from Australia in 2006 when she decided to spend a few days in Fiji. She was sitting at a bar one night when a man walked up and offered to buy her a drink.
Jn Paul already had one and declined in a very "firm, rude way," she recalled, but he replied that he would just wait until she finished.
"I'm tall -- taller than he is. My first impression was, I hope this short guy is not going to come bother me. But he was very aggressive and take-charge," Jn Paul said. "I was very impressed with that; he seemed very sure of himself."
Once they started to talk, they discovered they were a mini United Nations.
Mikolaj Sroda was a Polish man living in Sweden and visiting Fiji after a vacation in New Zealand. Jn Paul grew up in St. Lucia, moved to Florida when she was a teenager and had just completed her master's degree in International Relations in Australia.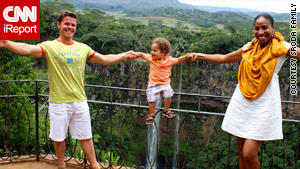 Mikolaj Sroda and Loverly Jn Paul met in Fiji. He is Polish, she is a native of St. Lucia. They live in Sweden with their son.
They talked all night.
After their vacations ended, they kept in touch and three weeks later, she visited him in Sweden. They were in a long-distance relationship for a year and a half before she decided to move to Sweden permanently in 2007.
The couple's different backgrounds took a bit of getting used to. Her Caribbean-American optimism and openness sometimes clashed with his European reserve and tendency to say exactly what he meant without sugar-coating it, Jn Paul said.
"There are so many differences ... but we overcame. It was a learning experience for both of us, so in the end love does conquer all, I guess," she added.
Jn Paul and Sroda got married in South Africa in 2008. They've traveled the world together and their international household in Gothenburg, Sweden, now includes a smiling, bubbly 15-month-old boy whose parents speak to him in Swedish, Polish and English.
Susan and Gordon
Susan Topping had never been out of the United States -- never even had a passport -- when she was invited to attend the wedding of a friend of a friend in Scotland in 2004.
The Palm Beach, Florida, resident received a big tax refund that year, she'd been divorced for a while and her kids had been encouraging her to get out more, so she decided to go for it.
At a reception before the wedding outside Glasgow, Topping noticed a man with piercing green eyes and dressed in a kilt.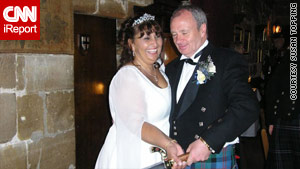 Susan and Gordon Topping on their wedding day at a 15th century castle in Scotland.
"He's a big guy, big shoulders and he fits a kilt so wonderfully," Topping, 52, recalled. "He kept coming up and talking to me. You know when somebody is interested in you. I thought, 'Oh my gosh, I'm too old for this.' "
Still, she felt liberated and completely herself by being so far away from home, Topping said.
They talked after the reception, and for the next few days Gordon Topping played the tour guide, showing her the sights. When she returned to the United States, he called to tell her he had booked a flight to Florida. He waited for Susan to pick him up at the airport in the summer heat.
"The poor man. I had a flat tire on the way up to Orlando and he was waiting for me for so long, his shoes melted," Susan Topping recalled.
His visit was followed by another, then another. Five months after they met, he proposed. They got married in 2005 in the 15th century Borthwick Castle, outside Edinburgh, Scotland, and now live in Nairn, in the Scottish Highlands.
"The only downside of getting married in a castle is if you have one too many drinks and you've got to climb up a spiral staircase in a wedding gown," Susan Topping said.
Jillian and Ken
When Jillian Pierce arrived on the Cayman Islands in 2005, she was looking to try something new after living in South Africa for most of her life.
"I had all these dreams about lying in a hammock and watching palm trees swaying in a gentle breeze," Pierce said.
Ken and Jillian Pierce met on the Cayman Islands. He is from Texas, she lived in South Africa for most of her life.
Instead, she found a tropical paradise devastated by Hurricane Ivan, so she began working for a law firm, focusing on helping with the recovery efforts.
Pierce, 48, had a big, international circle of friends, including a co-worker from Texas who kept trying to fix her up with her cousin who lived in San Antonio.
Pierce wasn't interested, but they finally met in 2007 when Ken Pierce came over to the islands with his son for a vacation.
"That was it," Jillian Pierce said. "I reached a point in my life where I was so happy on my own that I knew when I met him that he was a keeper."
They maintained a long-distance relationship for two years, spending lots of time online together including "Skype dates." They got married in rural Texas in August and now live in San Antonio.
A journey worth taking.