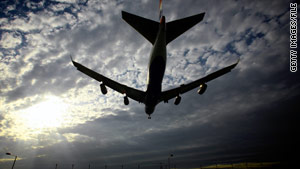 STORY HIGHLIGHTS
A couple's honeymoon flight is delayed by nearly two days

The airline promises a refund, and the couple buys tickets on another airline

The couple doesn't see a credit, though the airline claims it has been issued

Troubleshooter contacts the airline, and the couple receives the refund

(Tribune Media Services) -- When Sarah Paynter's honeymoon flight is delayed by two days, she buys a ticket on another carrier with the promise of a refund from her first airline. But now that the honeymoon is over, there's no sign of the money. What now?
Q: I'm trying to get a long-overdue refund from American Airlines, and I need your help. Last year, my husband and I had tickets for our honeymoon on American Airlines. On the morning of the flight from San Diego to Orlando, we got a phone call that said our itinerary had been changed. However, the new flight was almost two days later.
This was unacceptable to us since it was our honeymoon, so we called the airline's customer service department. They were unable to find us a closer flight so the agent said they would just refund our money. We ended up buying new tickets on another airline.
As you can probably guess, we never received the $1,374 refund we were promised. The tickets were paid for with a debit card so the refund should have been issued back onto the card.
We tried calling American Airlines about this and they said the refund had been issued. But when we called our bank to ask them about it, they said there was never any refund. I have also e-mailed American Airlines customer service about this and they just replied that the refund had already been issued. Then, when I emailed them again and asked for some sort of proof that the refund had been issued, there was no response.
We're stuck. Is there anything you can do?
-- Sarah Paynter, San Diego, California
A: American Airlines should have refunded the money you spent on your tickets by now. On second thought, it shouldn't have ever come to this. When your flight was canceled, the airline should have found a way of getting you to your destination in a timely manner -- not two days later.
Your rights as a passenger are outlined in American Airlines' conditions of carriage -- that's the legal agreement between you and the airline. (Here's a link to the full document: ). See paragraph 18, which deals with delays, cancellations and diversions. It specifies that when cancellations and major delays are experienced, passengers will be rerouted on its next flight with available seats.
"If the delay or cancellation was caused by events within our control and we do not get you to your final destination on the expected arrival day, we will provide reasonable overnight accommodations, subject to availability," it adds.
Not so long ago, airlines would buy a ticket on another airline if the delay were their fault, like a mechanical problem or a crew shortage. Ticket agents at some carriers still have the authority to endorse a ticket to another airline.
I don't think you should have taken "no" for an answer. Telling an American Airlines representative that you're on your honeymoon might have gotten you a flight to your destination without spending any extra money.
In a situation like this, having a skilled travel agent would have also been useful. A trusted travel adviser -- especially someone who specializes in honeymoon vacations -- would have known whom to call at American. If nothing else, that would have saved you and your husband from a lot of unnecessary stress.
As to your refund, airlines often talk a good game when it comes to returning your money. In fact, they take weeks, and sometimes months, to process your credit. Why? I haven't heard a good explanation yet.
When you're trying to track down a refund, you're better off sticking to e-mail. If the airline sends you something in writing that promises a refund, finding the money will be much easier for your bank. Even if the money never shows up, your financial institution may return the funds if it interprets the correspondence as a letter of credit, or an intent to pay you. That can't happen if you call the airline.
I contacted American on your behalf and it promptly issued a $1,374 refund to your card.