No refund for the wrong Chichen Itza tour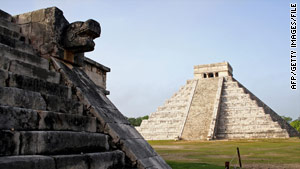 A traveler wants a refund for a tour of Mexico's Chichen Itza that she paid for but didn't receive.
STORY HIGHLIGHTS
A traveler booked an overnight tour before her trip

She booked online and had her hotel confirm, but the tour she paid for wasn't available

The company promised her a refund, but it didn't arrive

The Troubleshooter contacted the company, and the customer got her money back

(Tribune Media Services) -- Nancy Giese books an overnight tour to Chichen Itza, but when she arrives in Cancun, she's told she only has reservations for a day trip. Now her tour operator is refusing to refund the difference between the tours. Is there anything she can do?
Q: I'm trying to get a refund for a tour, and I'm getting the runaround. Last year, my husband, my niece, and I traveled to Cancun for two weeks. Before our departure, I asked my travel agent for a reputable tour company since I wanted to book a tour to Chichen Itza, a popular pre-Columbian archaeological site. She recommended Grayline.
I went online and I booked an overnight tour that included a light show and a room at the Mayaland Hotel, as well as access to the grounds in the evening. This cost me $99 per person.
When we got to Cancun, I got the concierge at my hotel to confirm the arrangements. She phoned and I thought it was all set.
When we arrived, we were told that we were booked on the day trip. This did not include the light show. When I explained that I had paid for the overnight trip, the woman at the counter told me there were no hotel rooms available at all. There was nothing she could do. She also told me that she couldn't issue a refund since I had booked on the Internet. She told me to get my refund through the Web site.
I have contacted Grayline Cancun several times in the past year. Each and every time, I am promised a refund. Each time, they fail to deliver it. Can you help?
-- Nancy Giese, Swan Hills, Alberta, Canada
A: Grayline should have refunded the difference between the day tour and your overnight tour as quickly as it took the company to withdraw the money from your credit card. Which is to say, instantly.
So why are you still waiting?
That's a question a lot of travelers -- from airline passengers to hotel guests -- struggle to answer every day. Travel companies are quick to take your money and slow to return it, even when you have every right to a prompt refund. The best explanation is that they want to keep your money, and they figure that dragging their feet increases the chances you'll give up.
But not you. You copied me on several e-mail requests to Grayline Cancun, in which you politely and persistently asked for your money. Grayline's terms and conditions are clear about giving its customers refunds: it doesn't. "All tickets purchased on www.grayline.com are nonrefundable," it says.
Curiously, while the Grayline's terms address your own behavior to an interesting level of detail ("You will only provide truthful and accurate information. You will not harass, threaten or abuse other people when using this site in any manner."), it doesn't really talk about the company's obligations to you. Too bad. Obviously, the company should adjust the rate you paid for your Chichen Itza tour immediately.
While you dealt directly with the Cancun location, you had three other options. You could have appealed to Grayline at the corporate level. You could have disputed the charges on your credit card. And you could have sued Grayline in a Canadian Small Claims Court.
Fortunately, you didn't need to do any of those things. I contacted Grayline on your behalf, and it sent you a full refund.