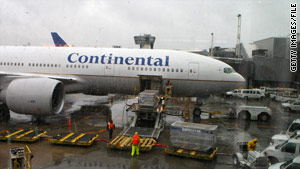 Continental Airlines has extended its peak-day surcharges.
STORY HIGHLIGHTS
Continental Airlines, American join new wave of airline surcharges
Delta, Northwest, United also charging more on peak dates
Fees in addition to base fares range from $10 to $50
Surcharges cover increased costs, airline spokeswoman says
(CNN) -- Major U.S. airlines' "going to see Grandma" surcharges are piling up this holiday season, and my, what big teeth they have.
Continental Airlines and American Airlines are among the carriers to expand surcharges for flights on peak travel dates from now through May, according to airline representatives.
"Basically, it's a way of the airlines making more money off of travel days that they know are going to be in high demand," said Graeme Wallace, chief technology officer of FareCompare.com.
The major carriers started adding surcharges in September, after American Airlines designated three peak holiday travel dates. Other major airlines and American soon extended the surcharges to more dates.
Recently, most of the major airlines have added a new wave of designated dates and upped the charges.
United Airlines, Delta Air Lines and its Northwest Airlines subsidiary are charging $10, $20 or even $30 above the published base fare on designated dates, said Ryan Berryman, senior vice president of Oversee.net, parent of travel search portal LowFares.com. Continental has similarly expanded its surcharge dates, spokeswoman Mary Clark said.
American Airlines also has expanded its list of peak dates, some of which will require $30 surcharges, said Tim Smith, a spokesman for the carrier.
The surcharges are legitimate, a United Airlines spokeswoman said.
"Costs are higher on peak travel days because we add more staffing at the airport to ensure our almost 10 million customers who are traveling during the holidays are accommodated," said United's Robin Urbanski.
It's also simple economics, Berryman said.
"There is definitely higher demand for travel on these dates," he said. "In addition, airlines have reduced their capacity considerably due to the economic environment. These two factors lead to higher prices during high-demand periods."
Even though they're presented as a separate charge, Urbanski acknowledged that the fees are simply "a limited fare increase."
"I say 'limited' because it only impacts select days," she said. "[That] is not all that uncommon during peak travel period when many more people are traveling."
She added that low, surcharge-free fares are still available on non-peak days.
But the carriers could suddenly add surcharges on yet more days, Berryman warned.

Video: New airline surcharges
"As airlines get a better sense of consumer demand for individual dates and the pricing actions of their competitors, I would expect to see further activity," Berryman said. "We have seen instances of surcharges extending into next year for spring break and Super Bowl weekend."
Some of the airlines also added a stiff $50 surcharge for travel February 8, the day after the Super Bowl.
Separately, US Airways instituted a 5 percent surcharge for flights beginning May 8.
"May 8 has absolutely no significance as a holiday for anyone, right? But that's their new rule," Wallace said.
But that surcharge is not related to demand; it's related to anticipated fuel costs, he said.
"They're trying to hedge against the price of fuel going up," Wallace said. "You've got to give the airlines some credit. They're trying to be proactive and say, 'By May 8, we expect fuel to be a bigger part of our operating cost, so we're going to slap on a 5 percent surcharge for fuel right now, just in case.'
"We may see more airlines jumping on this bandwagon and trying to hedge the future," he added.
What irritates bargain hunters like Wallace is that the airlines' Web sites don't include the surcharges in their posted fares, springing them on consumers late in the booking process.
"They're just hoping that people are going to book [flights] when they find out it's not $300; it's $360," he said.
But airlines do have legitimate business reasons for imposing surcharges rather than taking the more straightforward approach of raising base fares, experts said.
Airlines have to report fare changes to the Airline Tariff Publishing Co., an industry clearinghouse, incurring administrative costs. Much of the paperwork and attendant cost is avoided if the fares are left alone and surcharges are imposed instead, United's Urbanski said.
The practice also allows the airlines to target price changes more precisely to specific markets and times, Berryman said, and the fees are immune from fare sales and corporate discounts, Wallace said.
Consumers can help themselves by shopping around and using third-party booking sites rather than the airlines' sites, Berryman and Wallace said.
"It's kind of a 'buyer beware' kind of thing," Wallace said. "If you're shopping on an airline site, you've got to make sure that the price you're seeing on the page either excludes or includes these fees."
The big airlines are less likely to impose the surcharges in markets where they face strong competition from discount carriers like Southwest or JetBlue, he added.
"Be a smart consumer," Berryman said. "The best way to avoid surcharges is by being flexible with your travel schedule. The second best way is by planning ahead and frequently searching for fares prior to booking. ... A surcharge that you may see today may not be there tomorrow."