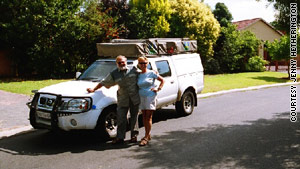 Jenny Hetherington and Gary Meitner embark on their African adventure.
STORY HIGHLIGHTS
Web sites match travelers by interest, destination, other factors
Strangers can join up to economize, share experiences
Sometimes the results are memorable, and not in a good way
Atlanta, Georgia (CNN) -- Consider yourself warned: If you're uncouth or uneducated or unstable, don't go on a trip with Jenny Hetherington. She'll drop you like a heavy suitcase and journey on without you.
"When things don't go well, I'll just leave. I'd rather continue on by myself," Hetherington said.
Hetherington has visited 67 countries in her 69 years, occasionally traveling with strangers when friends or relatives can't go. Sometimes it works out, sometimes it doesn't.
The semi-retired accountant left a male traveling companion in the jungle in Malaysia when she could no longer tolerate his boorish behavior, and on another trip she ditched a female fellow traveler whose moodiness had become a drag on their tour of Africa.
"I wouldn't abandon them in the middle of the Sahara or something if I didn't think they could take care of themselves," the Burlington, Ontario, resident said. "I wouldn't do that. But if I think the person could take care of themselves, yeah, I would -- and did."
But not every trip with a former stranger is disastrous. Hetherington still rhapsodizes about a lengthy off-road African adventure four years ago with a man she met through one of the many Web sites that help lone travelers match up.
"Everything went very, very smoothly," she said. "We had a wonderful time. ... We left on very good terms. He was a real nice man."
A common interest in people and in photography helped make the trip work, said her sidekick on that odyssey, retired industrial manager Gary Meitner of Winneconne, Wisconsin.
"It's sharing the experience that's really important, and a compatible person that can deal with a variety of difficult situations. And I think Jenny certainly fit that bill," he said.
It's more fun if you have someone to travel with.
--Sheila Arestad, traveler
Defraying of costs is a benefit of traveling together, but for many the motivation goes deeper.
"You want somebody to share it all with," said Harve E. Rawson, a retired psychology professor and author of four travel books. "That's very important.
"When you're looking at something, you want to be able to say, 'That's ugly' or 'That's pretty' or 'That's something I want to remember' or whatever. You need to get somebody else's reflection to it," he said. "I've seen some people traveling by themselves on long trips, and they just get miserable. And it's because they don't have someone to share their experiences with."
Finding that someone is the tricky part. People used to put classified ads in newspapers and travel magazines, but now a variety of Web sites play matchmaker for travelers.
"We're not a dating site, I want to make that clear," said Dorlene Kaplan, creator and CEO of TravelChums.com. "It's basically [that] sometimes, people are looking for someone for safety's sake, just to have someone to talk with, or, for most people I think it's to save money on travel or on accommodations."
Members of the fee-free site fill out a 53-item personal profile and describe what they're looking for in a traveling companion. (For example, Hetherington is not seeking romance -- what she calls her "no sleeping-bag privileges" rule.) Automated filters help identify potential matches, and the members take it from there.
"We know that it works for people," Kaplan said. "We haven't really gotten ... anybody who has met somebody who turned out to be a serial killer or anything like that.
"But I think people realize that you don't know this person," she added. "You don't know that what they post is true. And that's true of any matching site."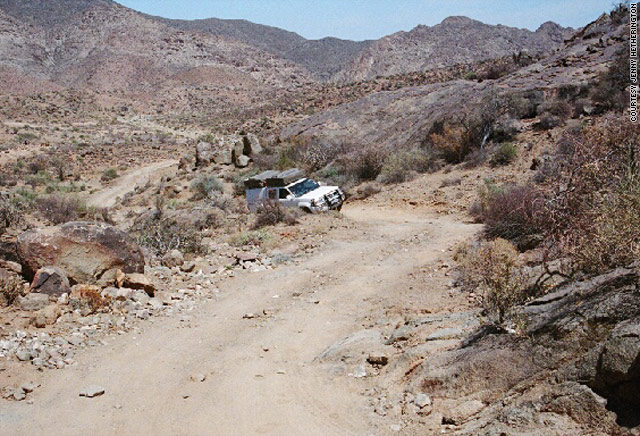 Gallery: African adventure
The matchmaking process worked perfectly for Sheila Arestad of Seattle, Washington, and Alberta Roberts of New York. Both wanted to go to Las Vegas, Nevada, for some gaming last spring, but neither wanted to go alone. They found each other on TravelChums and, after a little negotiating, agreed to meet at the Fun City airport.
"We had a great time. I was a little apprehensive, as we really didn't know each other. But we seemed to click right there at the airport," Roberts said.
The women stayed in separate rooms but spent all their waking hours together, Roberts said.
"I gave her the benefit of my expertise on the slot machines. ... She educated me on one of the buffets. ... And I loved it," she said.
Arestad has traveled solo before, "but it's more fun if you have someone to travel with," she said. She and Roberts hope to travel together again -- and probably will share a room now that they know they are compatible.
Staying in separate rooms on the first trip was a good call, Kaplan said.
"No matter how much you talk to them on the phone or send e-mails back and forth, being with them on a trip is something you can't anticipate that everything is going turn out right," she said.
Kaplan also advised that travelers hold little meetings throughout the trip to air any grievances and work out solutions.
"You've got to be really easygoing," Arestad said. "Just go with the flow. If somebody doesn't want to do something, just go do it by yourself."
It's not that hard to get along if people are considerate, author Rawson said.
"Most people that travel are basically nice," said Rawson, who has visited 171 countries. "You have a common interest to start with -- that is, your common interest in exploring new places. ... [But] some people are kind of obnoxious. ...
"The odds are for finding somebody compatible, but boy, a bad one can sure ruin your trip."