STORY HIGHLIGHTS
Poll: Many people resent the "oblication," the obligation vacation to see family
Bargains, tempting destinations await those who want to get away for the holidays
Caribbean is a great deal during Thanksgiving; big cities offer bargains during Christmas
Watch HLN's "Clark Howard," Saturday and Sunday at 6 a.m., 12 p.m. and 4 p.m. ET
(CNN) -- When Lulis Leal's family gets together for Christmas, she is usually sunning herself on a beach surrounded by palm trees and turquoise waters, with not one extended relative in sight.
For more than 10 years, Leal has been spending the holiday season in exotic locales like the Bahamas or Hawaii -- anywhere warm, the Cedar Grove, New Jersey, resident said.
She finds it the perfect time to get away with her husband and son.
"It's like everybody's home with their family so we've got the whole beach to ourselves. It's like our own little private paradise," Leal said, adding that her mother sometimes gently teased her about going away instead of visiting her for the holidays.
For many, going home for Thanksgiving or Christmas is the ultimate obligation vacation, or the "oblication," a term the Urban Dictionary grimly defines as "Taking time off work to go somewhere you don't want to go to do something thoroughly unenjoyable, i.e. attending a funeral or holidays with in-laws."
More than half the people who use vacation time to visit family resent doing so to some degree, according to a new poll by Travelocity.

Video: How to escape for the holidays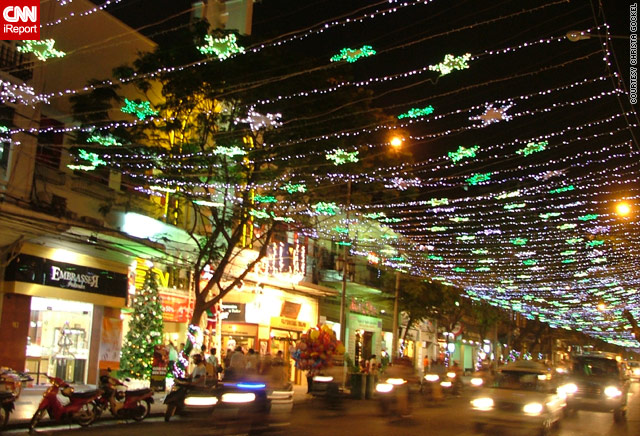 Travel Snapshots
"People have different feelings about it. Some people are very excited to go home for the holidays, some people would prefer to take their time off to take a vacation," said Genevieve Shaw Brown, senior editor at Travelocity.
Hotel bargains
You may love your family, but if you're yearning to escape the annual ritual of eating turkey with relatives you barely know or spending Christmas elbowing for room with other houseguests, lots of bargains and tempting destinations await.
"My favorites during Thanksgiving are to go to places in the Caribbean because the Caribbean, even during Thanksgiving, is off, off, off season," said consumer adviser and HLN money expert Clark Howard.
"At Christmastime through New Year's, it's a different drill. The best deals are to Europe, starting on Christmas Day. If you can wait and go on Christmas Day or later, you're going to get fantastic bargains to Europe."
Travelers often focus on air fares as the barometer of whether to splurge on a vacation, but the big bargain story this year may be hotel prices, especially in big cities or convention destinations decimated by the bad economy.
Watch Clark Howard's tips for getting a great hotel room deal
It will cost 16 percent less on average to book a room during Thanksgiving compared to this time last year, Brown said. The prices are even lower in cities like San Diego, California; Miami, Florida; and San Juan, Puerto Rico, she added.
"The hotel business is in the toilet. It's almost a depression," Howard said. "You want to be really depressed as a hotel owner? Try during the holidays, because except for the hotels that are located at resorts, ski mountains, or the beach -- wow, there is absolutely not business at all."
The trick is to book a room anywhere but at those most in-demand locations, so check out hotels around the airport or the center of a big metropolis.
This may be your perfect opportunity to explore Washington, New York or San Francisco, California, during the period from Christmas to New Year's, Howard said.
Where to get away for Thanksgiving
The United States may pause on turkey day, but for the rest of the world it's just another day in November. You'll find great deals outside the country, in places like Mexico, Canada and South America, said Pauline Frommer, creator of Pauline Frommer's guidebooks.
"Thanksgiving is an excellent time to be a tourist virtually anywhere," Travelocity's Brown added.
St. Lucia may be a good bet if you're thinking about the Caribbean, because the low-cost airline Jet Blue recently added a nonstop service to the island, she said.
(Keep in mind the Atlantic hurricane season doesn't officially end until the end of the month, though late November storms are rare.)
Beware of flying on the Tuesday and Wednesday before the holiday and the Sunday and Monday afterwards, Howard said. There are few deals to be found on any carrier during those peak travel days.
Escaping for Christmas
Vacationing during Christmas is trickier, because people around the planet, not just the United States, travel for the holiday.
"Prices usually skyrocket pretty much everywhere in the world," Frommer said.
If you heed Howard's advice about flying to Europe on Christmas Day, check transportation options at your destination. Savings on air fare can be cancelled out by an expensive cab ride in cities where public transportation shuts down during the holiday.
Closer to home, Mexico is still a good value, Brown said.
Cruises can also be a good bet, especially if you live in a home port like San Diego or Miami and you don't have to pay the air fare to get there. Brown listed Christmas week cruises bound for the Bahamas or Baja California that start at about $350 per person.
Low season escapes
Travel outside the holiday weeks may not provide an escape from the family, but offers the best deals and may give you lots to talk about when you do get together with your relatives.
"If you've ever wanted to visit China, there has never been a cheaper time than now," Frommer said. One company is offering a 12-day tour of the country, including hotels, domestic flights and guided tours, for about $1,000.
The weather may be chilly, but "it's such a good deal, that you put on your woolen hat and your big overcoat and you go," she said.
In Europe, an economic crisis in Ireland means that country is a good deal for travelers, especially those who book a package, Frommer added.