STORY HIGHLIGHTS
It may seem morbid, but graveyard tourism can be inspirational, life-affirming

Star-gazers get close to the late-famous and stories of strangers come to life

Soup cans dot Andy Warhol's grave; guitar picks litter Jimi Hendrix's

Volunteers with Find a Grave, a Web site, help families track down ancestors

(CNN) -- He's chipped his way through more than a foot of snow and ice to get to Ernest Hemingway. He's walked right up to Al Capone and Karl Marx. He's dragged his mom to visit the infamous cannibal Alferd Packer and just came back from seeing Farrah Fawcett.
He is Jim Tipton, founder of Find a Grave, a free online database of burial sites for the famous and otherwise around the globe.
"It does sound morbid and dark. But when you're actually visiting someone's grave, it's like visiting a relative; there's a closeness there," said Tipton, 37, of Salt Lake City, Utah. "And I've always liked the aesthetics of cemeteries. I've always called them parks for introverts because you don't have to worry about someone asking you to play a pick-up game."
At first glance, the idea of graveyard tourism may seem ghoulish. But for visitors who seek out headstones, this sort of destination travel is about more than death and grief-seeking. It can be a form of entertainment and inspiration, a history and architecture lesson, a cultural appreciation course, a genealogical journey and a source of relaxation.
Providing solace and beauty for the living, in fact, is as important as honoring the dead at Mount Auburn Cemetery in Cambridge and Watertown, Massachusetts. This 175-acre institution, founded in 1831, made history as America's first garden-like, landscaped cemetery, inspiring similar sites across the country and even public parks like Central Park in New York.
After long days staring at a computer in Portland, Oregon, Scott Stanton caught this tourism bug when he'd unwind by strolling through neighborhoods, often cutting through graveyards.
See cemetery tourists' favorite photos
It does sound morbid and dark. But when you're actually visiting someone's grave, it's like visiting a relative; there's a closeness there
--Jim Tipton, Find a Grave founder
The self-described "frustrated rock 'n' roll star" soon started seeking out the burial sites of musicians, which took him to more than 550 plots throughout the world. From punk rocker Joey Ramone in New Jersey and composer Pyotr Ilyich Tchaikovsky in Russia to the Doors legend Jim Morrison in France and blues guitarist Stevie Ray Vaughan in Texas, he spent more than 15 years compiling information and taking photographs for his book "The Tombstone Tourist: Musicians."
"I'm not a Carnival Cruise sort of guy," said Stanton, 50, who owns a software company. Doing the book "took a long, long time, because they kept dying. I could never figure out when to stop."
Many cities have cemeteries that have long attracted throngs of visitors. Père Lachaise in Paris, France, where Morrison is buried -- along with Maria Callas, Frédéric Chopin and Oscar Wilde, to name a few -- is one of them.
After-death stargazers can stay busy in Los Angeles, California, where outfits bearing names like Dearly Departed Tours are dedicated to showing visitors the way. At Hollywood Forever Cemetery, about 2,000 people come out every Saturday night to spend the evening with Rudolph Valentino and Fay Wray, picnic and watch classic films.
And no visit to New Orleans, Louisiana, would be complete without a visit to St. Louis Cemetery No. 1 and the tomb of Voodoo Queen Marie Laveau. There are plenty of ghost, vampire and haunted tours, ones that play up the kitsch.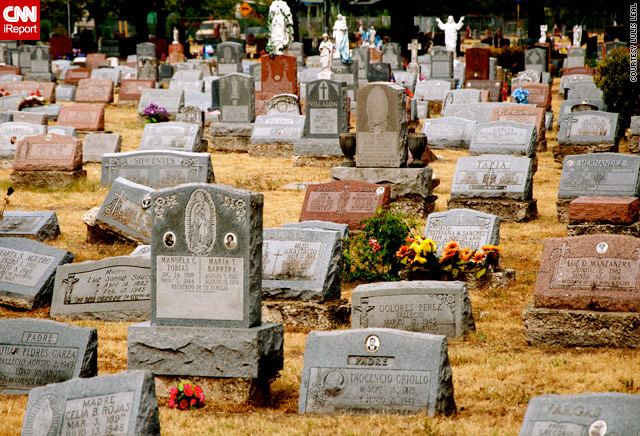 Graveyard tourists share favorites
But Robert Florence of Historic New Orleans Walking Tours Inc. believes that the facts surrounding the city's burial sites -- which include family tombs that hold generations of remains and sit above ground, preventing caskets from floating away during floods -- are as good as fiction.
"Cemeteries reflect so much about the place you're in," Florence said, describing the ones in New Orleans as "repositories of thousands of years of traditions and legacies."
At Oakland Cemetery in Atlanta, Georgia, visitors can get close to Civil War soldiers and civil rights pioneers before dining nearby at a restaurant called Six Feet Under. This historic cemetery sponsors special events, such as Sunday in the Park, during which Victorian costumes are invited, and numerous tours for Halloween, lessons in African-American history and more.
Also at Oakland is golfing great Bobby Jones. Modern-day pros often stop by his headstone en route to the Masters in Augusta for good luck, said Rick Sebak, a documentary producer for WQED, the PBS station in Pittsburgh, Pennsylvania, and the force behind "A Cemetery Special." Visitors leave golf balls and sometimes clubs, Sebak said.
Campbell's soup cans are strewn across Andy Warhol's grave in Pittsburgh. Guitar picks litter Jimi Hendrix's final resting place outside Seattle, Washington. Baseballs pile up at Lake View Cemetery in Cleveland, Ohio, where visitors find Ray Chapman, a shortstop for the Cleveland Indians who was killed by a baseball in 1920.
But Sebak said tourists shouldn't overlook the not-famous. He's been struck by the little wooden houses that dot a Russian Orthodox cemetery in Fairbanks, Alaska, the photographs on tombstones in Key West, Florida, and the inscriptions he's come across during his travels. He still laughs when he remembers seeing this on a mausoleum marker for one woman: "I told you I was sick."
Learning about strangers is part of what drives Cristina Lugo of New York, who with a club she calls the "Cemetery Girls" takes self-guided day trips to graveyards in the area.
The headstones tell stories, such as the one in the Bronx that honors a family killed by a lightning strike, said Lugo, 37. She also sees visiting graves as a service to others -- the departed and the descendants who can't get there on their own.
For the Web site Find a Grave, she often volunteers to track down and photograph the burial sites of people's ancestors. She recently ventured into one New York graveyard for a family in England, giving them a piece of their genealogical history.
And perhaps more than anything, the cemetery tourism hobby brings Lugo a sense of peace she can't find in the urban, living jungle.
"It's almost like church for me," she said. "It's a reminder that life is precious."