By Rick Steves
Tribune Media Services





(Tribune Media Services) -- Europe is investing in its infrastructure, and travelers know the results are breathtaking. With the English Channel tunnel, trains speed from Big Ben to the Eiffel Tower in about 2.5 hours. You zip under the English Channel in 20 minutes ... looking out the window for fish.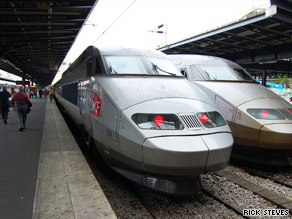 Europe's high-speed rail is so successful that one airline is considering getting into the business.
More travelers now connect London and Paris by train than by air -- and high-speed rail between these two cities may get even faster and cheaper in the near future.
Eurostar, a joint service of the Belgian, British and French railways, is the speedy passenger train that zips you (and up to 800 others in 18 sleek cars) from downtown Paris to downtown London more easily than flying. Direct Eurostar service from London to Brussels also takes 2.5 hours. The actual tunnel crossing is a 20-minute, black, silent, 100-mile-per-hour nonevent. Your ears won't even pop.
In the 15 years that the bullet train has been running, not much has changed except London's Eurostar station -- it's now St. Pancras International (in Paris it stops at Gare du Nord; in Brussels it's Midi Station). But starting this winter, the pace of change is speeding up. In December, a high-speed connection between Brussels and Amsterdam opens, cutting the journey from London to Amsterdam by an hour.
In January, Eurostar's monopoly on using the Chunnel -- the tunnel beneath the English Channel -- expires. With its London-Paris flights suffering, Air France realized if you can't beat 'em join 'em. In 2008 it announced a competing high-speed rail service between London and Paris to start in late 2010 -- but the economic downturn could put that service on hold. Air France will use the same tracks, but says its trains could run faster than Eurostar's (a claim that Eurostar disputes).
The competition can only be good for travelers, but for now, you'll have to use Eurostar. Their fares are reasonable but complicated. Prices vary depending on how far ahead you reserve, whether you can live with refund restrictions, and whether you're eligible for any discounts (children, youths, seniors, round-trip travelers, and railpass holders all qualify).
Don't Miss
Fares can change without notice, but typically a one-way, full-fare ticket (with no restrictions on refunds) runs about $425 first-class and $300 second-class. Cheaper seats come with more restrictions and can sell out quickly (figure $80 to $160 for second-class, one-way). Unlike our cheapo airlines, you can take two large bags and one small day bag per person for no extra fee.
Since only the most expensive (full-fare) ticket is fully refundable, don't reserve until you're sure of your plans. But if you wait too long, the best deals will get bought up.
When you're ready to ride, you'll find the process is similar to an airport check-in -- without all the drama, sole-baring shoe inspections, and waiting. You must be at the station at least 30 minutes in advance of your Eurostar trip. You'll pass through airport-like security, show your passport to customs officials, and find your departure gate listed on a TV monitor. There are a few shops, newsstands, snack bars, and cafes (I usually bring better, cheaper food for the trip from elsewhere), pay-Internet terminals, and a currency-exchange booth with rates about the same as you'll find on the other end.
I like to ride in second class (Standard class) to save money. First class (also called Leisure Select) gets you a little more leg and elbow room, a newspaper, a classy meal, and power plugs at your seat.
As you zoom along at speeds up to 185 miles per hour, consider how long it took to link Britain and France. Since the days of Napoleon there had been talk about a tunnel under the English Channel, but it wasn't until 1986 that the two countries finally reached an agreement to build it together. Once the digging started, crews crept forward 100 feet a day until June 1991, when French and English workers broke through and shook hands midway across the Channel. Voila! Cheers! The tunnel was complete.
With 24 miles underwater, it's the world's longest undersea tunnel. The ambitious project helped to show the European community that cooperation between nations could benefit everyone. High-tech know-how, a shared European vision, and people's love of travel have created incredibly fast trains that crisscross, link and strengthen Europe.
Whizzing along on a European bullet train is the greenest way to go -- far more fuel-efficient and less polluting than flying. Every time I ride through the Chunnel -- caught up on my research, well rested and unfrazzled -- I'm thankful for Europe's comfortable rail network.
E-mail to a friend

Rick Steves writes European travel guidebooks and hosts travel shows on public television and public radio. E-mail him at rick@ricksteves.com, or write to him c/o P.O. Box 2009, Edmonds, Wash. 98020.
Copyright 2009 RICK STEVES, DISTRIBUTED BY TRIBUNE MEDIA SERVICES, INC.
All About Travel and Tourism