(CNN) -- US Airways Capt. Chesley "Sully" Sullenberger and First Officer Jeffrey Skiles were reunited in the cockpit Thursday for the first time since Sullenberger safely landed a disabled passenger plane in the Hudson River in January.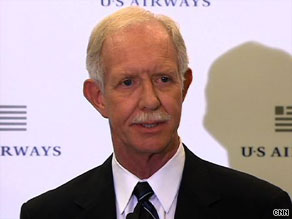 Thursday's flight was Chesley Sullenberger's first in his new role as an active management pilot for US Airways.
"It was great to fly with Jeff again. Being back in the cockpit felt very familiar. It was like coming home," Sullenberger said of the flight from New York's LaGuardia Airport to Charlotte, North Carolina. "Even though several months had past since I've flown, it would seem like I had never left."
It was the first time Sullenberger had flown the New York to Charlotte route since the water on landing on January 15. A bird strike in the engines forced Flight 1549 to make an emergency landing in the icy waters between New York and New Jersey.
The landing made heroes of Sullenberger and the flight's crew, who managed to lead passengers to safety with only a few minor injuries.

Watch Sullenberger talk about the flight »
Sullenberger has been honored with numerous awards, appeared on the "Late Show With David Letterman," spoke before a joint session of Congress and even went to the Super Bowl.
Sullenberger said that, after the incident, he wanted to be reunited in the cockpit with Skiles and complete the flight.
Cheers filled the cabin when Sullenberger introduced himself, adding he had "learned to wait" for applause to die down before giving preflight announcements.
Four passengers from Flight 1549 returned for Thursday's trip, putting their lives once again in the hands of the man they affectionately call "Sully."
Christie Spears, who survived the "miracle on the Hudson," reserved the same seat for today's trip.
"What better flight to be on? What better captain to fly with? I wouldn't choose any other one," she said.
Barry Leonard, a regular commuter on the New York-Charlotte route, said the flight was a healing process for him.
Other passengers said they felt like they were taking part in a historic event.
With "Sully" at the controls, Pat Martinez said she felt like she won the lottery.
"It was a smooth, calm flight -- just what you would expect from Sully."
Thursday's flight also was Sullenberger's first in his new role as an active management pilot for US Airways.
In addition to his flying duties, Sullenberger will join the airline's flight operations safety management team, which helps airlines assess potential risks and act to mitigate them, US Airways said.
Both men took time off before returning to the cockpit, US Airways said, during which they completed requalification training.
Skiles returned to work in April, US Airways said. Since then, he has flown more than 60 flights. Sullenberger completed his training September 11, and since the crash, he has flown two flights between Charlotte and Atlanta.
Sullenberger said he plans to step back from his flying duties while he goes on a book tour in two weeks and starts teach other pilots at the flight training school.
Skiles said that even after eight months away from the controls, Sullenberger did everything perfectly, even reaching over to his radio to change the frequency.
Sullenberger said the clear skies and nice weather made Thursday's flight go smoothly.
"It was a beautiful day to fly," he said. "This flight today was a lot longer than that one in January, and I was able to give [CEO Doug Parker] back his airplane without getting it wet first."

E-mail to a friend

CNN's Adam Reiss contributed to this report.
All About Hudson River • Chesley Sullenberger • US Airways Group Inc.