By Jarrett Bellini
CNN






(CNN) -- A trip abroad is never really complete until I've taken at least one long (possibly lethal) nature hike. Maybe it's my love for fresh air, or maybe it's my constant need for a change of scenery. But, usually, it's simply because somebody tells me it's part of the merit badge requirement.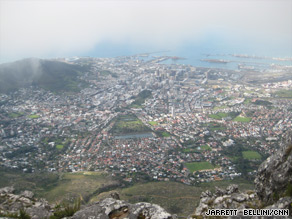 The sweeping view of Cape Town is worth the climb up Table Mountain.
"You just HAVE to climb Table Mountain!"
Thus, it was for the latter reason that I found myself on top of Cape Town's most obvious natural landmark on the last full day of my vacation. And, just like all the other hikes I've taken over the years, it was well worth the effort, especially since I needed to burn off about 75,000 calories worth of South African beef jerky. They call it biltong, and it's widely revered like a sacred food sent from the heavens.
From the top of Table Mountain, the view of downtown Cape Town is truly spectacular: a vibrant city nestled comfortably between hills and sea, evaporating mist from over the mountain fringing the panoramic view as in a dream. But it's not a dream. It's just evaporating mist from over the mountain. Full disclosure.
Standing there upon a windy ledge, I contemplated my two-week stay in South Africa, from losing my bank card to a rather unforgiving airport ATM, to diving with sharks this very same morning.
Jarrett's Vacation
The highlight of my stay, and rightly so, was the safari in Kruger National Park. There, I slept in my trusty hammock under an African sky and spent my days with some of nature's most beautiful animals who probably don't necessarily remember my presence with the same particular fondness.
The other highlight was my tour of South Africa's wine country. I've been told I enjoyed myself.
I also have to give a major shout out to the wonderful people at Long Street Backpackers. My time in Cape Town simply would not have been the same without their hospitality. As Homer Simpson might say, it was the cause of and solution to all of life's problems.

And, finally, thank you to everyone who voted to ship me off to South Africa for this project. It was an educational experience beyond words, and I hope I was able to inspire some of you to brave the long flight and experience it all for yourself. And, remember, if you DO go ...
... you just HAVE to climb Table Mountain!
E-mail to a friend

All About Travel and Tourism • South Africa • Cape Town