By Jessica Ravitz
CNN





(CNN) -- Gearing up for further bloodletting, airlines seem to be performing pre-emptive triage.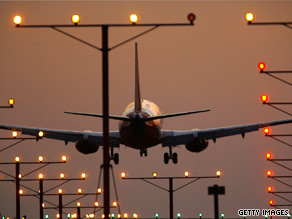 On track to lose more than was projected in 2009, airlines scramble to cut losses.
With more than $6 billion in losses through June, the global airline industry is on track to outpace the initial yearlong prediction that it would lose $9 billion, said Brian Pearce, chief economist for the International Air Transport Association, which represents about 230 airlines.
"Airlines are in survival mode," as they approach the end of the third quarter, Pearce said from his office in Geneva, Switzerland. "They're trying to raise cash to carry them through, are starting to see some benefit, but they've got a very long way to go."
Among the number of recent U.S. airline announcements meant to offset losses: A paring down of Southwest Airlines flights; the layoff of 921 flight attendants at American Airlines; a creeping up of baggage check-in fees at US Airways, among others; and the exclusive use of smaller, cheaper to operate regional jets for United flights out of St. Louis, Missouri.
Pearce said fares have fallen by up to 20 percent to keep flights full, and while he doesn't think they're going to drop further, he also doesn't think they'll rise significantly, especially while consumers are still hurting. But given what's expected, airlines have to get scrappy, he said.
"Rising fuel costs are coming ahead of rising revenue," he said.
There have been small signs of economic growth in Asia and Australia, Pearce said, and for airlines that fly internationally, an upturn anywhere can prove beneficial. But that does little to help many airlines that might rely on still-burdened domestic consumers.
Don't Miss
There was a time, historically, when airlines were two or three months behind the economic curve, said Michael Boyd, president of Colorado-based Boyd Group International, an aviation research and consulting firm. Now, however, they have to stay ahead of it if they want to stay afloat.
With pre-emptive moves, U.S. airlines may break even or do better this year on domestic travel, Boyd said, adding that there's no such thing as seasonal traffic spikes during economic times like these.
With the ongoing recession and fall in consumer spending and demand to save and scrape where they can, the airlines are "acting like squirrels, putting away nuts for the winter," Boyd said.
Southwest Airlines has prided itself on not surprising customers with new fees, such as charges to check bags. The airline recently announced a paring down of flight routes -- canceling, for example, flights between Albuquerque, New Mexico, and Portland, Oregon -- and a repositioning of aircraft to serve routes that are making more money.
In addition, Southwest has introduced "EarlyBird Check-In," which airline spokesman Brandy King described as one of the "out of the box ways to increase customer service and at the same time increase revenue."
Passengers flying with the airline, which doesn't have pre-assigned seats, can pay an optional $10 one-way to snag an early boarding position and better seat.
While it is billed as a customer service option, Boyd saw this move as further proof that "ancillary revenues are more and more important" during this economic time.
"Southwest has left a lot of money on the table because they haven't been charging," he said.
The airline industry came into the recession while still reeling from the 2008 spike in oil prices, Boyd said. While he thinks passengers have seen every possible new fee that can stick (US Airways' attempt to charge for water died quickly), he said he wouldn't be surprised if they keep creeping upward.
Overall, "for airlines, it's going to get worse. For the passengers, it can't get worse," he said. "Consumers can rest assured that the travel experience will be just as uncomfortable as ever. The planes will not be more crowded; they're full right now. The thrill of traveling through an airport and being treated like cattle -- that will continue."
E-mail to a friend

All About Air Travel • Travel and Tourism