By Jarrett Bellini
CNN






Editor's note: We asked readers to weigh in on CNN.com Live producer Jarrett Bellini's vacation destination, and you chose South Africa. Check back for updates on his trip.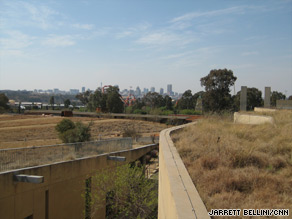 High walls and electric fencing are common in Johannesburg, South Africa.
JOHANNESBURG, South Africa (CNN) -- The flight from Atlanta, Georgia, to Johannesburg was as easy a 15-hour flight as I've ever had.
Approaching Jo'burg by air reminded me a bit of arriving back home in Phoenix, Arizona: The city is massive and spreads out for what seems like eternity as a flowing quilt of twinkling lights. I was mesmerized.
After losing my ATM card, finding a suitable hostel, having some beers in the hostel bar and retrieving my ATM card the next morning, I took the shuttle back to the hostel and met Sandrine, a wonderfully enthusiastic French aid worker who lives in Mongolia. She lives in a small village and breaks her own coal three times a day to keep her place warm with a fire. My kind of lady!
Sandrine and I set off to explore the area during daylight hours and quickly learned that Jo'burg is a relatively modern city but hampered by the sad fact that everything -- and I mean EVERYTHING -- is surrounded by high walls with electric fencing.
Crime is a major issue, and there seems to be a slight feeling of paranoia throughout the city. Barbed wire. Armed response security signs. Relatively empty streets. This will be my lasting visual from a day that also included a long cab ride out to the impressive Apartheid Museum. iReport.com: Share your South Africa experiences and suggestions
Let's Ruin Jarrett's Vacation
We were feeling the need for culture, so Sandrine and I decided that learning about South Africa's sordid history would be a good way to pass the afternoon. And aside from the haphazardly organized, temporary Nelson Mandela exhibit, the museum is wonderfully constructed and detailed. Stress detailed.
We spent only 2½ hours there, and, should we have desired to actually read everything, I fear the entire two weeks could have been spent wandering those halls. So, we did the Cliff's Notes version, and that seemed to suffice.
We decided to heed all your suggestions and booked a three-day safari in Kruger National Park, a massive expanse of land that borders Mozambique and a bit of Zimbabwe. (Thanks for the idea!)
So, it might be a few days before I can report back, but I promise to have photos, hopefully with fun, wild animals sniffing my lens.

I also hope to have all of my limbs.
E-mail to a friend

All About Travel and Tourism • Johannesburg • South Africa • Nelson Mandela