(CNN) -- Here are some tips to help scratch below the surface of the Swedish capital.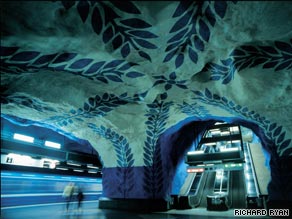 You can't miss the art at metro stations like T-Centralen on the blue line.
Underground art
A journey on Stockholm's metro system ("Tunnelbana") is more than just an efficient way of getting from A to B -- it's a cultural experience in its own right.
Nearly all of Stockholm's metro stations feature some kind of artworks, ranging from figurative sculptures and colorful mosaics to modernist murals and decorative flourishes that blend in with the tunnel architecture.
The blue line is particularly spectacular, with stations seemingly hewn out of raw rock, which has been left in its unadorned natural state. Walking through the likes of Kungsträdgården or Rådhuset station can feel a little like exploring some undiscovered cave network.
When to visit
If you're visiting Stockholm your experience of the city will vary hugely depending on what time of year go.
Stockholm's winters are long and gloomy. Although snow is a rarity in the city, the nights are long and cold. In late December the sun rises after 8 a.m. and sets before 3 p.m., leaving precious little time for daylight sight seeing.
My City_My Life
Each month CNN visits the world's coolest cities with the celebrities who know them best.


The flipside is Stockholm's summer, which can be surprisingly warm. In late June the sun rises at around 3.30 a.m. and sets after 9 p.m., practically an invitation for late-night partying.
One drawback of visiting Stockholm in the summer is that it can seem a little deserted. Locals flee the city in July, heading for holiday cottages in the countryside or spending time on the thousands of islands that make up the archipelago. On the other hand, you'll have plenty of tourists for company.

See photos of ABBA songwriter Bjorn Ulvaeus's Stockholm »
Where to buy alcohol
In Sweden, the state-run "Systembolaget" stores are the only shops licensed to sell drinks containing more than 3.5 percent alcohol. The theory is that there should be no profit motive in the sale of alcohol, meaning shops have no incentive to persuade customers to buy extra booze. The government claims the system has helped reduce Sweden's once rampant alcoholism.
Have your own Stockholm travel tips? Share them in the SoundOff box below

It means that alcohol is very expensive, with a lack of special offers or discounts deals -- but that's the whole point. You need to be at least 20 years old to buy alcohol in a "Systembolaget" and if you're blessed with youthful looks you'll need to carry ID with you.
Cheers!
Swedes have a complex relationship with alcohol (see above), but when it's time to knock back a drink, one thing everyone can agree on is the toasting protocol.
First, wait for somebody to raise their glass. Next, ensuring that you make and maintain full eye contact with that person, nod in their direction and join in the toast of "skål!" (pronounced "skorl"). Finally, imbibe liberally, but with a certain Swedish restraint.
Don't Miss
The archipelago
Stockholm is situated at the start of an archipelago of about 24,000 islands and no trip to the Swedish capital is complete without visiting at least one of them.
Fjarderholmarna is made up of four islands and is close enough to Stockholm to allow a leisurely day trip. Stora Fjarderholmen is the biggest and most interesting of the four and is well worth an overnight stay.
Further afield, Angso is a three-hour boat trip from the Stockholm and is a designated national park, full of unspoiled woodland and gentle meadows. Overnight stays aren't possible.

Uto is one of the biggest islands, filled with wooden cabins and pine trees, and if beaches are your thing, make for Sandon, where you can laze on soft sand at the southern end of the island.
Summer is the best time to explore the archipelago, when ferries are at their most frequent and hotels and restaurants are most likely to be open for business.
E-mail to a friend

All About Stockholm • Travel and Tourism