(CNN) -- Stockholm's natural beauty makes it the perfect setting for outdoor happenings. Many of the city's seasonal events have their roots in the city's Viking past, giving a taste of Sweden's long lost Viking heritage.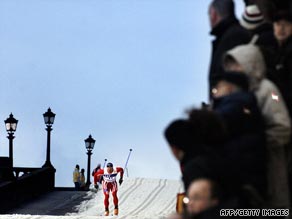 A crowd watches a skier decend a hill outside the Royal Palace in Stockholm.
Walpurgis Night (30 April)
Also known as "Valborg" Night, Walpurgis Night was originally a pagan festival to mark the coming of spring.
The event is named after Saint Walpurga, although it dates back to pre-Christian times, when fires were lit to ward off devil-worshipping witches and to celebrate the end of the long Scandinavian winter.
Bonfires are lit all over Sweden to mark the occasion, and Stockholm's best Walpurgis celebrations take place at the open-air museum of Skansen, on the island of Djurgarden. Here the festivities kick off in the afternoon with a parade, followed by the lighting of a bonfire and choral singing -- a Walpurgis tradition begun not by Vikings but by Swedish university students.
The next day is Labor Day, a national holiday, giving the locals the chance to sleep off any ill effects from the previous night's festivities.
My City_My Life
Each month CNN visits the world's coolest cities with the celebrities who know them best.


Midsummer (June)
Another hugely popular Swedish celebration with pagan roots, Midsummer is a national holiday that is celebrated with enthusiasm, free-flowing beer and sumptuous Swedish strawberries.
Stockholm can become a ghost town in the summer as locals take their vacations en masse, but there are still plenty of opportunities for visitors to celebrate Midsummer. Making the most of the extended daylight offered by the Scandinavian summer, at Skansen the revelry lasts for three days, featuring such Midsummer traditions as maypole dancing and folk singing.
Elsewhere in Stockholm you'll find houses decorated with flower garlands and locals gorging on pickled herring and new potatoes and quaffing substantial quantities of potent "akvavit."

Watch ABBA's Bjorn Ulvaeus take CNN on a tour of Stockholm »
National Day (6 June)
On the whole, the Swedes are too progressive to be overtly patriotic, but on Sweden's national day they are happy to make an exception.
Formerly known as National Flag Day, it's only been an official national holiday since 2006. In Stortorget, Stockholm's medieval square, there are day-long medieval-themed celebrations, including poetry, storytelling, singing and dancing.
Don't Miss
The royal family also get involved, joining a procession to Skansen, where they are met by flag waving crowds, brass band music and folk dancing.
Winter Fun
Despite, or perhaps because of, Sweden's long, dark winter nights, there's plenty to do in Stockholm in the winter.
Christmas markets spring up around the city from November onwards. Stortorget has hosted a Christmas market since 1914, and it's still a great place to buy traditional crafts and warm up with a glass of glögg -- Sweden's spicy, alcoholic winter warmer.
Skansen also holds a Christmas market, as well as marking the Winter Solstice with displays by ice sculptors and fire artists. In Kungstradgarden park there's an ice rink modeled on the one at New York's Rockefeller Center, where you can perform al fresco pirouettes until you're dizzy.

See photos of Bjorn Ulvaeus in Stockholm »

Luciadagen (December 13)
Luciadagen is the Swedish celebration of a Sicilian saint, featuring candlelit processions of white-robed girls playing the role of St. Lucia. Lucia's can be seen parading at Skansen, as well as in Stockholm's churches and schools.

Royal Palace Sprint (February/March)
Even if you have no interest in cross-country skiing this one-kilometer event is worth watching simply because of its unique route, which snakes around Stockholm's Royal Palace.
As a world cup ski competition it gives you the chance to see top class international cross-country skiers in action -- and you can count the Swedish royal family among your fellow spectators.
E-mail to a friend

All About Stockholm • Saint Lucia • Cross-Country Skiing