By Moni Basu
CNN





(CNN) -- Audrey Peterman grew up surrounded by Jamaica's verdant mountains and lush mango orchards. She'd watch fish and an occasional shrimp dart in the stream that flowed near her house. When she settled in America, she yearned to relish the natural beauty of her new homeland.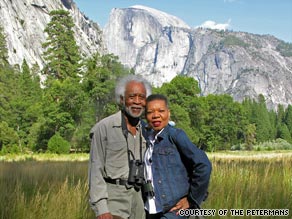 Frank and Audrey Peterman stop in front of Half Dome in Yosemite National Park in California.
She and her husband, Frank, climbed into their Ford F-150 pickup and drove 12,000 miles through 40 states to see 14 national and state parks. She marveled at the untouched vistas of the Badlands, Yellowstone and Yosemite national parks.
But amid the breathtaking views, she noticed a glaring omission. Under the pristine blue skies, there were hardly any people of color.
"At Yellowstone, it occurred to me -- how come there are no black people around?" Peterman said.
Why? she wondered. Why weren't they enjoying the parks they helped create, the public lands that belonged to them as well? Peterman embarked on a crusade to address the problem.
This month, her work will culminate in a national conference in Atlanta, Georgia -- Breaking the Color Barrier in the Great American Outdoors -- that focuses on increasing the participation of minorities in outdoor activities.

See photos of America's national parks »
Peterman said she hopes to showcase the diversity of Americans who are committed to the environment and expose more people of color to the great outdoors.
"I never saw stories on national parks or the environment in Ebony, Jet or Essence," she said. "Parks are an unknown quantity to people of color."
She jumped for joy recently when America watched President Obama and his family soak in the wilderness at the Grand Canyon and Yellowstone National Park. The images were a big boost for her campaign.
Peterman also is looking forward to the upcoming premiere of documentarian Ken Burns' latest television series, "The National Parks: America's Best Idea," which begins airing on PBS on September 27, just after her conference.
Burns' series promotes the idea that national parks are "as uniquely American as the Declaration of Independence and just as radical: that the most special places in the nation should be preserved, not for royalty or the rich, but for everyone."
Burns explores national parks just as he has other American inventions in earlier documentaries on baseball and jazz.
"Burns shows the genesis of the park system and the contributions of people of color," Peterman said.
People like Shelton Johnson, raised in Detroit, Michigan, and a stranger to national parks until he became a park ranger at Yosemite. There he tells his mostly white visitors the tale of the African-American cavalry regiment, known as the Buffalo Soldiers, who protected the land and toiled to build trails and roads.
When he first arrived at Yosemite 15 years ago, Johnson had no idea African-American soldiers had a share of the park's history until he saw a black-and-white photo of men who looked like him. These were the faces of Americans who helped build the park.
"There's nothing more democratic than a national park," he says in the documentary.
Yet less than 1 percent of the visitors to Yosemite are African-Americans.
Historically, African-Americans have shied away from the outdoors, said Nina Roberts, an associate professor at San Francisco State University who teaches courses on parks and recreation. Her research has shown that ethnic minorities are conspicuously absent in activities such as camping, hiking, skiing, cycling and rock climbing.
Part of it was based in poverty, Roberts said. A lack of money and transportation held minorities back from road trips and ski vacations.
Fewer socioeconomic barriers exist today, but Roberts said a cultural wall still prevents minority participation. A 400-year-old legacy of slavery was reinforced by the post-Civil War and Great Depression migration of African-Americans to urban areas. Jim Crow laws restricted their movements, while acts of violence were often perpetrated against blacks in remote wooded areas.
Blacks found safety in their own homes, behind locked doors. Asians and Latinos, too, live with a history of forced labor outside.
"They might avoid certain areas because of perceived discrimination," Roberts said. "Outdoor spaces are not places of refuge for minority communities."
Savannah Williams enrolled in a program for inner-city kids in Nashville, Tennessee, that first introduced her to the water -- and to a sport that would otherwise have been out of her realm. At 12, she took up scuba diving, an act that sent her family into shock. None of her relatives even knew how to swim. They told her scuba diving was a sport for rich white people.
"I totally stepped out of my comfort zone," Williams said. "But when I got in the water, it was amazing."
Under the water, the African-American teenager's fears fell away. She felt at complete peace. Williams will speak at the upcoming conference organized by Peterman. She doesn't want the environment to remain an unknown quantity.
The other goal of Peterman's conference is to increase diversity within the national parks' work force in which minorities are vastly underrepresented.
By midcentury, minorities are expected to become the majority in this country, but 5.5 percent of the current park system staffing is Hispanic, while 9 percent is black and 1.8 percent is Asian, according to the National Park Service. About 80 percent of the park service work force is white.
In a report issued in May, the park service acknowledged it needs to make diversity in both its work force and its visitors a priority.
"Although the nation's demographics have been changing for years -- Hispanics now outnumber African-Americans and together these two populations are nearly equal to non-Hispanic whites -- the majority of American visitors to our national parks continue to be primarily white," the report says.

"The national parks most ardent supporters are visitors, and if visitation is not representative of the racial, ethnic, and generational diversity of America, crucial support could be lacking in the future."
Peterman's conference will attempt to spread the word: There's a beautiful world out there that belongs to all Americans. She is hoping that black and brown soon will see green.
E-mail to a friend

All About National Park Service • Travel and Tourism