By Jennie Bragg
CNN





NORFOLK, Connecticut (CNN) -- Travel to Litchfield County, Connecticut, and you'll find a community dotted with bed and breakfasts like the one Dean and Jean Marie Johnson purchased five years ago in the town of Norfolk.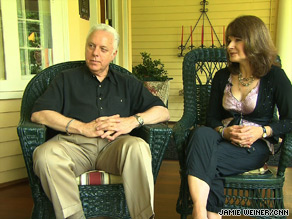 The Johnsons saw their Connecticut B&B bookings drop 20-25 percent when the economy took a hit.
At the time, it seemed like a cash cow. Just a two-hour drive from New York City, the inn drew much of its business from Manhattan weekenders.
But last year, when the economy dropped off, so did bookings at Mountain View.
The travel industry has taken a hit, right along with the economy. Occupancy rates at hotels nationwide were down 7.3 percent this July compared with July 2008, according to Smith Travel Research.
Unfortunately for the Mountain View, their bookings dropped even more.
"We were down about 20 to 25 percent overall in terms of bookings," Jean Marie Johnson said, "and that was really a reflection of the economy, people holding back on discretionary spending.
"This year we started out fairly weak. The bad weather, the wet spring, the season didn't help."

Watch the Johnsons discuss how the economy has affected their business »
The Johnsons didn't have to look far for help. Like many small business owners, they rely on neighboring businesses to help them succeed.
One boost for Mountain View has been the Infinity Music Hall, a newly refurbished, 300-seat popular music venue with an attached bistro.
Infinity opened its doors in downtown Norfolk less than a year ago, bringing more overnight travelers back to town this summer.
"I think that it's becoming a destination for people," said Infinity entertainment director Kim Yaffa.
Small business survival tips
Expert advice on how competitors can work together in challenging economic times, from CNNMoney.com:
A growing number of small business owners are rethinking their relationships with competitors and banding together to survive the recession
Shared distribution channels, referral agreements, subcontracting, joint ventures and other partnerships are cropping up among rivals
Mutual benefits -- plus some carefully crafted legal agreements -- keep things friendly
For these partnerships to emerge, managers must overcome fear associated with broadcasting their problems
Partners can meet regularly and hire an independent, part-time project liaison to keep things on track
Beyond personal compatibility, collaborating businesses must bring complementary strengths to the table
Read more about competitors working together at CNNMoney.com
"I know that the inns are filling up. I know that the restaurant is busy. I know that the restaurant next door is busy. So I'm sure we're making an impact."
It's an impact Dean and Jean Marie Johnson are starting to feel, but it's not enough to let them sit back and relax.
The least expensive room at Mountain View, a smaller room with a bathroom down the hall dubbed by Dean Johnson the "budget" room, is filling up far more frequently than larger rooms priced $100 more per night.
The Johnsons are taking steps to bring overnight visitors in the door of their once-vacant seven-bedroom inn.
While they have not dropped their prices, they have eliminated the two-night minimum for weekend stays and say they are willing to negotiate with visitors.
"Given the fact that people are more stretched given their discretionary funds, we're much, much more flexible" Jean Marie Johnson said.
"So if someone says [they] can only stay one night, we can almost always accommodate them for that one-night stay."
And one-night stays at the inn are on the rise, thanks in part to Infinity Hall.
"People are coming from all over," Yaffa said. "Our mailing list is from Boston to Canada. They're coming down to spend the weekend and see the artist they want to see."
Sold-out performances, multiple shows scheduled each week and big-name performers like Bennie and the Jets, the Gin Blossoms and Aimee Mann have meant needed bookings during Mountain View's peak summer season.
"I think it's probably added maybe 20 percent more than we would have had previously," Dean Johnson said.
With a little extra promotion, the Johnsons hope this is a trend that will continue.

"It was a little bit discouraging, the drop-off in 2008," Jean Marie Johnson said. "We became much more aggressive about promoting ourselves and cooperating with local businesses to draw people here.
"And now we're seeing the upswing again, which makes us more hopeful."
E-mail to a friend

All About National Economy • Travel and Tourism