By Mark Tutton
For CNN





(CNN) -- Swedish superstars ABBA are a pop phenomenon -- one of the biggest and most enduring groups ever to wear matching white body suits. They have had number one hits the world over and 26 years after they last performed together the huge success of "Mamma Mia! The Movie" proved they were as popular as ever.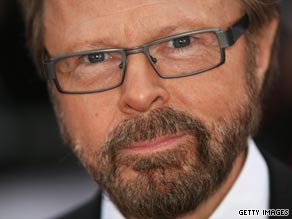 Bjorn Ulvaeus on the secret to ABBA's success: "It's the songs, plus I think the two girls, the voices -- the blend was unique and very special."
Bjorn Ulvaeus was one half of the songwriting genius behind the hit factory that was ABBA. His music has touched millions of people, sold hundreds of millions of records and become a blueprint for chart success.
Ulvaeus grew up in the remote Swedish town of Vastervik on the Baltic Sea. His first taste of musical success came as a teenager with the "Hootenanny Singers," a folk group that scored a series of number ones in Sweden in the '60s.
It was while touring the country with his band that Ulvaeus first met Benny Andersson of Swedish group "The Hep Stars." Ulvaeus and Andersson struck up a friendship and began writing songs together.
The pair moved to Stockholm as songwriting partners and it was in the Swedish capital at that Bjorn and Benny met Agnetha Fältskog and Anni-Frid Lyngstaf -- the singers who would become their future wives, and the other half of ABBA.

Watch Bjorn Ulvaeus take CNN on a tour of Stockholm »
The four began their musical collaboration in 1970, but it wasn't until 1973 that they first performed as ABBA -- an acronym of their names. Ulvaeus and Faltskog married in 1971 and Andersson and Lyngstaf wed in 1978.
My City_My Life
Each month CNN visits the world's coolest cities with the celebrities who know them best.


Ulvaeus told CNN, "We wanted to write pop songs and sing them in English, and the only way to reach outside Sweden at that time was through the Eurovision song contest."
In 1974 they made it to the Eurovision final, wearing over-the-top, glam-inspired costumes that would become their trademark. Their song, "Waterloo," won them the contest and made them overnight stars in Europe.
"Waterloo" topped the charts in a number of countries but after their initial success, the group struggled to produce a follow up and, like so many Eurovision winners, seemed destined to be one-hit wonders.
It wasn't until 1975, with the release of "SOS," that ABBA had another smash hit, paving the way for a slew of memorable songs that made them international stars.
The foursome went on to produce global chartbusters including "Mamma Mia," "Fernando," "Money, Money, Money," "Knowing Me, Knowing You," and "Voulez Vous."

See photos of ABBA's music through the years »
In 1980 Ulvaeus and Fältskog divorced, spelling the beginning of the end for ABBA. The group had more hit records, including "The Winner Takes it All," which chronicled the couple's break up, but their performance on British TV in December 1982 was to be their last as a group, other than a brief cameo on Swedish TV in 1986.
After ABBA split Ulvaeus and Andersson continued their musical partnership, writing the musical "Chess," and the Swedish-language "Kristina fran Duvemala," before coming up with "Mamma Mia!," based around ABBA songs.
"Mamma Mia!" played to millions of people around the world, spawning versions in countless languages. Nine years after the musical opened "Mamma Mia! The Movie" was released. Starring Meryl Streep and Pierce Brosnan, the movie was a box-office smash, reportedly taking over $500 million worldwide.
Now 64 and remarried with two daughters, Ulvaeus still lives in Stockholm, where he is a vocal member of the Swedish Humanist Association. Last year he announced that he was suffering from memory loss and had no recollection of some of the most important moments from his past, yet for millions his music remains an enduring memory.
Ulvaeus and the other members of ABBA have repeatedly stated that the group will never reform but those who can't get enough of the Swedish Super Troupers will be cheered by the news that there are plans to build an ABBA museum in Stockholm.

Watch a sneak peek of the ABBA museum »
Ulvaeus told CNN that he feels humbled by the fact that ABBA remain so popular, 27 years after they split up.

"I think the secret behind the fact that our songs are still around and that Abba became so big is a lot of factors together, but one of them was definitely that we put so much effort into song writing," he told CNN.
"We hardly ever toured, we just wrote and wrote and produced the records over a period of seven or eight years. So it's the songs, plus I think the two girls, the voices -- the blend was unique and very special."
E-mail to a friend

All About ABBA • Pop and Rock Music • Sweden