By Jessica Ravitz
CNN





(CNN) -- Claustrophobia was not a condition Bill Johnson understood.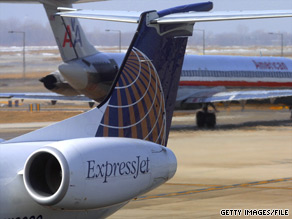 Passengers on a Continental flight operated by ExpressJet sat on the tarmac for nearly six hours on August 8.
That changed on August 8 when he and his new bride, while returning from their honeymoon, found themselves among the 47 airplane passengers left trapped overnight on a tarmac in Rochester, Minnesota.
As the hours -- going on six of them -- passed, he said the air in the ExpressJet for Continental Airlines cabin grew rank. The two babies on board cried. The toilet filled and stopped flushing. No food was served and the puddle-jumper seats made sleep, for him, impossible. All the while, the airport was visible from the plane.
"I wanted to freak out and kick the windows out," said Johnson, 35, of Minneapolis, Minnesota. "I was just trying to keep my cool."

Watch how pilot tried to set passengers free »
The much-publicized story of Flight 2816, diverted to Rochester because of bad weather while en route to Minneapolis from Houston, Texas, has brought to the forefront a growing demand to institute passenger rights.
Advocacy groups are fielding calls, gathering momentum and preparing for a September 22 hearing in Washington. One organization recently bought cable television ad time hoping to reach President Obama on his vacation and earn his support, just as a bill to protect fliers from such incidents heads to the Senate floor.
Since the Rochester incident, there have been other tarmac strandings. Passengers on a Sun Country Airlines flight were trapped for about six hours on August 21 while at JFK International Airport in New York. That prompted the airline's CEO to announce last week a four-hour maximum deadline for tarmac sittings, Minnesota's Star Tribune reported.
The first "massive tarmac stranding" to spark outcries and stir up calls for legislation came in January 1999, said Kevin Mitchell, chairman of the Business Travel Coalition. That was when about 3,500 passengers were trapped during a snowstorm for up to 13 hours on Michigan's Detroit Metro Airport tarmacs, he said.
The 2007 Valentine's Day crisis involving JetBlue flights, which included strandings of up to 10 hours at JFK International, in Mitchell's opinion eventually cost the then-CEO his job.
A couple of months before that mess, Kate Hanni was one of the passengers caught up in a December 2006 storm fallout in Texas that left her and her family on an Austin, Texas, tarmac for more than nine hours.
"People miss funerals, weddings, cruise ships, business meetings -- it has an impact on their lives," said Hanni, whose outrage about that air travel experience pushed her create FlyersRights.org.
"And it's not just a customer service issue," she continued, mentioning overflowing toilets and people with diabetes or other medical conditions. "It's about safety, dignity and well-being."
In late July, the U.S. Senate Commerce Committee passed the Federal Aviation Administration Reauthorization Act, which includes the Airline Passengers Bill of Rights, first written in 2007 by Sens. Barbara Boxer, D-California, and Olympia Snowe, R-Maine. The FAA reauthorization bill will next move to the Senate for consideration.
The part penned by Boxer and Snowe requires airlines, among other things, to offer passengers an option to deplane if the aircraft sits on the ground for three hours -- with a couple exceptions -- and to provide them with food, water, working restrooms, ventilation and comfortable temperatures during such delays. It also asks airports and airlines to set up contingency plans for delays and encourages the U.S. Department of Transportation to fine offenders and set up a hot line for passenger complaints.
Each day, the FlyersRights.org hot line is flooded with calls, Hanni said. In July, the Napa, California, resident said the line averaged 400 calls a day. The callers aren't just frustrated passengers, they're also crew members who don't want to be named but want someone to make noise for them.
Calling attention to the frustrations of flying is what Hanni, 49, is all about. If someone phones while trapped on a tarmac, she'll start ringing the airline and airport managers, demanding help. If the response she gets is insufficient, she threatens and is poised to call media. Since the Rochester incident earlier this month, she said she's been interviewed more than 50 times.
In June, 278 airplanes sat on tarmacs for more than three hours, according to a consumer report released by the DOT. The department's Bureau of Transportation Statistics shows that 42 of the June flights sat on tarmacs for four hours or more.
"One [lengthy tarmac delay] is too many for us, but here are the facts," said David Castelveter, a spokesman for the Air Transport Association of America, which represents the nation's top airlines. Since reporting tarmac delays became required in autumn 2008, he said the numbers have been low. In May there were eight delays of four hours or more, he said, and a DOT report confirmed this.
As for June? "Forty-two flights out of 558,000 is a small number, relatively speaking," Castelveter said. "That's no reason to put in place legislation that will cause more delays, more cancellations and more inconveniences."
As Castelveter warns of possible consequences if the legislation passes -- including cancellations if pilots exceed their strictly regulated hours and cannot be replaced, hotel rooms that will be on passengers' dime if the delay is weather-related -- Hanni continues her fight.
Worried that the Boxer-Snowe bill of rights might get lost in the political shuffle if the FAA Reauthorization Act doesn't pass or gets put off, Hanni flew to Martha's Vineyard recently on a mission to reach President Obama during his vacation there.
She bought air time on local cable for 30-second ads in which she encouraged him to sign into law the Airline Passengers Bill of Rights, a measure he co-sponsored when he was an Illinois senator.
"Imagine what it's like: no food, no water, toilets overflowing," she said into the camera. "Please, sir, urge Congress to pass it. ... Enough is enough."
Not enough is what Continental Airlines has offered Bill Johnson of Minneapolis and his wife. Their tickets for the flight that left them stranded in Rochester were automatically refunded, he said. But he's not interested in the "compensation package" that came for their troubles -- two $200 vouchers and two American Express gift cards for $50.

By using those vouchers and gift cards, he said the fine print says he'll waive his rights to pursue this issue further. And after what he experienced, that's not an option.
"How people let us sit like that, it's not acceptable," he said. "I'm not touching that package. They need to do more."
E-mail to a friend

All About U.S. Department of Transportation • Air Travel • Federal Aviation Administration