By Jarrett Bellini
CNN






Editor's note: Last week we asked readers to weigh in on CNN.com Live producer Jarrett Bellini's vacation destination. The choices were Turkey, Greece, Argentina and South Africa.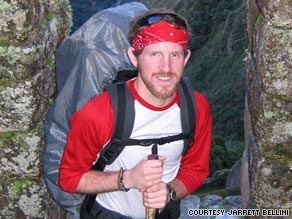 Jarrett Bellini is off to South Africa. Share your ideas for his trip on iReport.com.
(CNN) -- Well, the people have spoken, and more than 40 percent of those who weighed in voted for South Africa.
So let me just thank you now for choosing the absolute longest flight of the four possible destinations. Your compassion is heartwarming, and I'll think of it fondly as I attempt to smother myself with a seat cushion (which can also be used as a floatation device).
On the plus side, I will get to peruse SkyMall magazine at least 700 times. Who knows? Maybe I'll break down and buy a motivational poster.
Really, though, I couldn't be more thrilled to be flying into Johannesburg. Eventually. Submit your suggestions, photos and videos for South Africa on iReport.com.
In total, it's about 15 hours in the air to get from Atlanta, Georgia, to South Africa's largest city -- a small price to pay to spend nearly two weeks in one of the world's most fascinating countries. Read more about the idea behind Jarrett's trip
I have to admit, I was pretty excited when I finally tore open that envelope at the airport, revealing the winning country. However, it should also be noted that Greece, Argentina and Turkey think you can all go climb a tree.

See Jarrett open the envelope »
Don't Miss
Anyway, there won't be too much more to share until I'm safely on the ground. As I write this, I'm actually still sitting in the Atlanta airport terminal, which is where I have been since about noon. My flight leaves at 8. Did I mention you chose the flight with the latest departure time? Did I?
All I can say is thank goodness for free Wi-Fi and complimentary cocktails in the lounge. Weeee!

So, until we really get this vacation rolling, you just start thinking about what you want me to do in South Africa.
And if you want anything from SkyMall, now's the time to speak up. I'm taking orders.
E-mail to a friend

All About South Africa • Johannesburg