By Jessica Ravitz
CNN





(CNN) -- When good news for the travel industry is hard to come by, one upside of the economic downturn has been an increase in on-time flight arrivals and a fall in the number of cancellations.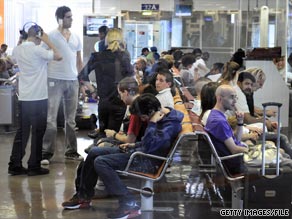 Fewer travelers mean less air traffic and a fall in flight delays, statistics show.
More than 30,000 fewer flights were cancelled in the first half of 2009 than during the same period in 2008, according to the Department of Transportation's Bureau of Transportation Statistics.
And the federal bureau's numbers also show that delays decreased, with 19.3 percent of flights clocking delays of 15 minutes or more, versus the 24.1 percent calculated last year.
The improved statistics, however, can largely be attributed to fewer planes taking flight, both because of economic woes (less demand from passengers) and shaky fuel costs, industry insiders say.
Airline schedules, depending on the company, have been cut back anywhere from 10 percent to 20 percent over the past two years, said David White, a business development and marketing executive with FlightStats, an online resource that tracks flight and airport statuses.
This has meant a two-year reduction in flights at all 67 of the medium and large hub airports, said Victoria Day, a spokeswoman with the Air Transport Association of America (ATA). She said scheduled domestic departures in the fourth quarter of 2009 will be down 22 percent from the same quarter of 2000, amounting to 6,660 fewer flights per day.
Also helping ward off delays, and showing the power of the ripple effect, is an additional runway at Chicago O'Hare International, which opened last fall. Its mere existence has shown marked improvement in Chicago, Illinois, as well as in the airports it feeds, White of FlightStats said.
The Bureau of Transportation Statistics shows more than 78 percent of flights were on time in Chicago from January through June of this year, a huge leap from the 61 percent figure for the same period one year before.
Don't Miss
As airlines struggle to stay afloat by cutting flights to meet waning demand from cash-strapped travelers, they also have been offering reduced fares to keep folks flying. The ATA reported in a written statement last week that in comparing July 2009 to July 2008 the "average price to fly one mile fell 18 percent."
Even so, airline revenue fell 21 percent in the same time period. And passengers continued to decline by 4 percent from June to July alone, the ATA reported.
The association predicts air travel for the upcoming Labor Day holiday, from September 2 through 9, will drop by 3.5 percent, or 1 million passengers, from where it was last year.
The silver lining may be fewer delays for those who hit the skies, but White warned that all of this can be tenuous, for example the thunderstorm diversion that left passengers stuck overnight on a Rochester, Minnesota, tarmac earlier this month or the one- to two-hour delays that swept across the East Coast during rough weather last Friday.
"The improved performance is somewhat fragile," he said. "Bad weather can throw the system into chaos pretty easily."
E-mail to a friend

All About U.S. Bureau of Transportation Statistics • Air Travel