By Christopher Elliott
Tribune Media Services





(Tribune Media Services) -- Even though Kim Ryan's airline just went out of business, her online travel agent assures her she'll still be able to fly to Hawaii for her honeymoon. But that doesn't happen. She's forced to buy a new ticket and spend an extra night on the island, and now the travel agency is dragging its feet on a refund. Can this honeymoon be saved?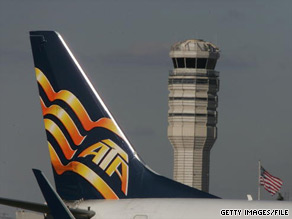 ATA Airlines went bankrupt before Kim Ryan's honeymoon and her online agent didn't rebook the flight.
Q: I've been trying to get this issue resolved with Travelocity for more than six months, with no luck. We booked our honeymoon flight to Hawaii on ATA Airlines, but 10 days before our trip we got a call saying that the airline had gone out of business.
A Travelocity representative assured us we had been rebooked on new flights and that everything was taken care of. Needless to say, on the morning of our honeymoon, we had no tickets. The airline we were supposed to have been rebooked on, Delta Air Lines, was adamant that it wasn't giving us any tickets. And a Travelocity representative kept telling us everything would be fine and they were "working it out."
Nothing was worked out. We had to buy another set of tickets to keep our trip.
I've tried calling Travelocity customer service and was promised over and over that someone is looking into it, that they will call. They don't. They keep asking for more time and keep telling me my request is on "urgent" status. I've sent them more than 65 pages of documentation by mail and fax. We're out more than $4,000 for the airline tickets and an extra night's accommodations and transportation expenses. Enough is enough. Can you please help us?
-- Kim Ryan, Phoenixville, Pennsylvania
Don't Miss
A: Travelocity should have issued a prompt refund for the new airline tickets you had to buy. Actually, it shouldn't have come to this at all. As your online travel agent, it should have ensured you were rebooked on another flight -- just like it promised.
There's no excuse for keeping you waiting this long for your money. If I didn't know any better, I'd say the requests for additional documentation were nothing more than a delay tactic meant to wear you down until you give up.
But I know better. As it turns out, Travelocity had issued paper tickets for your first flight, and when ATA went belly-up, it created a bureaucratic nightmare for your agent. Delta wasn't offering free flights to displaced ATA customers, but standby flights for $100 per person. If you wanted a confirmed space, the airline allowed a modest 20 percent discount off a new ticket.
If Travelocity offered to rebook you at no additional expense, then it was being beyond generous. It almost certainly wouldn't have access to the money it paid ATA on your behalf, since ATA was in the process of being liquidated. So Travelocity appeared to be offering you new tickets to Hawaii. How nice.
But that didn't happen, and the resulting confusion is every bride's worst nightmare: A honeymoon gone bad.
Let me hit "pause" for a second. Why did you book the most important vacation of your life through an online travel agency? This is a trip of a lifetime, and you really should consider entrusting it to a competent travel professional -- preferably, someone who specializes in honeymoons.
When you learned of ATA's bankruptcy, you should have verified that your flights were rebooked. Yes, Travelocity offers a "guarantee" that "everything about your booking will be right," but when thousands of passengers are displaced, it's possible that some of them will be overlooked. I wouldn't have relied on Travelocity's word, and rather than phoning the company, I would have contacted it through its Web site. A written record of your problem might have expedited your refund, if not prevented it from happening.
I contacted Travelocity on your behalf. It reviewed your case and determined that you had been "incorrectly advised" by its agents that your Delta flights were confirmed. Delta later notified Travelocity that it wasn't paying for the ATA flights, and would charge you and your husband for full-fare tickets. You were never notified of that change.
Travelocity has refunded your replacement tickets, plus the cost of an extra night in Hawaii, to the tune of $4,078.
E-mail to a friend

Christopher Elliott is the ombudsman for National Geographic Traveler magazine. E-mail him at celliott@ngs.org.
Copyright 2009 CHRISTOPHER ELLIOTT, DISTRIBUTED BY TRIBUNE MEDIA SERVICES, INC.
All About Air Travel • Travel and Tourism