By Jessica Ravitz
CNN





(CNN) -- As summertime draws to a close and families begin to switch out suitcases and sand toys for school lunch boxes, people in the travel business take the temperature on how the industry and consumers are faring.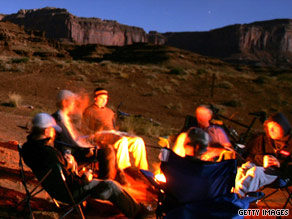 Considered a low-cost vacation alternative, camping was on the rise this summer.
The recession has, no doubt, taken a toll on certain sectors and destinations, not to mention the folks who've been unable to pay for leisure.
But for those who've not given up on getaways, the options and bargains were -- and continue to be -- plenty.
One new initiative this summer came from the National Park Service, which publicized three fee-free weekends to would-be visitors. Granted, a $25 park entry fee wasn't likely to make or break vacation plans, but putting a new spotlight on parks made sense, especially now, said spokeswoman Kathy Kupper.
"National parks are a low-cost alternative to the family vacation," she said. This program "was a way to open the doors and invite people in" at a time when "there's a growing movement to reconnect children with nature and the outdoor experience."
Whether the effort made the difference is hard to tell, but the numbers show that park visitation, and tent-pitching, experienced an upswing. Kupper said that this year, through July, park visitors increased nearly 5 million, or more than 3 percent, from 2008. And camping in July alone, she added, went up about 9.6 percent, compared with last July's figure.
Not everyone, however, wants to get grungy or be at one with nature.
Don't Miss
Another vacation model that's gotten additional traction is the vacation rental home. HomeAway.com, which lists properties for owners and offers easy shopping for vacationers, has seen demand grow, an increase in available properties and people booking closer to their vacation dates, said Justin Halloran, a vice president with the company.
Though there are over-the-top luxury properties available, the average booking is for a three-bedroom home at $1,500 a week, he said. The option, he continued, works well for families or groups that want to stay together, cook at home and spend less overall.
"I have three children 5 and younger, and another on the way," Halloran said. "It's not fun when you have to go out to breakfast, and I don't want to sleep in the same hotel room as them. I love them dearly, but that's not a good vacation."
For those who still prefer jetting off, say to a faraway land, and checking into hotels, the tourism industry has laid out the bait.
"The last-minute deals keep coming in," for flights and packages in general, said Rich Beattie, executive editor of TravelandLeisure.com. "London, Paris, Rome, there are still great deals for travelers -- anyplace where the dollar is still strong."
And here in the U.S., he pointed out that just this week, JetBlue announced its All-You-Can-Jet Pass. Through August 21, a person can pay $599 for unlimited travel on the airline for an entire month, starting September 8.
"Airlines are not doing well because business travel is so off," Beattie said. "That's their bread and butter, and that's why they're able to offer these leisure fares. But as fuel prices creep up, airlines are going to have to raise fares."
Because companies continue to pull back the reins on business travel, hotels are also feeling the pain.
The occupancy numbers have nose-dived by 11 percent just as overall rates have been slashed 10 percent (and oftentimes more) to lure customers, said Jan Freitag, a vice president of Smith Travel Research, which monitors the hotel industry. Making matters even worse is that new hotels, on track to open before the economy tanked, could bring as many as 70,000 more rooms into the already flooded market, he said.
About the only "silver lining" he could point to -- and he'll take what he can get -- was an uptick in weekend stays, which matches the growing trend of people taking quick getaways as opposed to weeklong vacations.
"We're looking for signs of less worse," Freitag said. "We're not looking for great."
To keep customers coming, hotels, resorts and even vacation rentals have offered freebies, in addition to discounts. From spa services, free meals, gift certificates and an additional night at no cost, the consumer is getting accustomed to having more for less.
Enter greed and the expectation that it'll always be this way. It won't be, industry insiders promised. It can't be, they said.
At a recent roundtable meeting of European tourism officials in New York, gatherers swapped stories of wealthy frequent travelers who are demanding perks they never dreamed of asking for before, said Ruthanne Terrero, a vice president at The Travel Group, which puts out publications and Web sites for travel professionals and hosted the roundtable.
"They're drunk on deals now and totally assuming the world is theirs. It might be, but not the entire world," she said with a laugh.
E-mail to a friend

All About National Park Service • Travel and Tourism