By Laura McGeary
CNN






My City_My Life producer Laura McGeary writes a diary about her experiences on the road. In this second part she gets to watch master chef Wolfgang Puck in action in the kitchen.
LOS ANGELES (CNN) -- Late Friday morning, we meet Wolfgang Puck and his assistant Maggie at the famous Spago restaurant to plot out our plans for the next few days of taping. In the background the kitchen staff is prepping for the busy lunch schedule.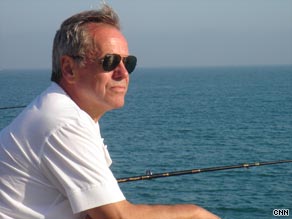 Puck says L.A. has perfect weather, "fabulous light and very little rain"
Wolfgang has many good ideas that we add to our already packed schedule including a trip to the Los Angeles County Museum of Art (LACMA) because he loves modern art and also the possibility of a L.A. Dodgers game. After our planning meeting, Darren and I step out into the sun onto Rodeo Drive to tape shoppers. When we get back to the restaurant, Wolfgang is in his signature white chef's jacket and instructing his sous-chefs.
We take a camera back into the kitchen. Wolfgang comes alive. You can tell this is his passion. He tells us about his famous salmon pizza that now is copied in restaurants in the south of France. We take a tour with him through the kitchen to see the produce, the salmon they smoke at the restaurant and the heirloom tomatoes. He stops and samples the in-season figs.


Watch Wolfgang Puck take CNN on a tour of L.A. »
We watch his staff slice vegetables, make gnocchi and maneuver past each other without spilling. Wolfgang stands in the open kitchen and patrons bring in their friends to be introduced. You can tell he enjoys the social side of the business as much as the cooking. While we're taping the lunch setting, Maggie is upstairs making phone calls and setting up a visit for us to LACMA and to meet with the director Michael Govan.
My City_My Life
Each month CNN visits the world's coolest cities with the celebrities who know them best.


Terry, our driver, is waiting and we all jump in the van and drive over to LACMA. Govan agreed to meet with us because he and Wolfgang are friends, but we have a little time to wait as Govan is giving a tour to Tobey McGuire and trying to squeeze us in before a dinner engagement he has already planned.
See pictures of Wolfgang Puck's Los Angeles
Only in Hollywood. While we wait, Wolfgang entertains Darren and I with stories about how Andy Warhol wanted to paint a portrait of him, but he passed up the idea and asked for a designed Spago menu instead. A passersby comes up and asks to have their photo with him and he agrees without question. Wolfgang tells us that many people are inspired artists by living in Los Angeles, including one of his favorite, John Baldessari.
We squeeze in a quick tour of Baldessari's work before Govan must rush. Back in the van, Wolfgang checks on his wife's flight back from Sydney and calls his nanny at his house to arrange a healthy meal for his 2 and 4 year-old sons back at the house. We arrange to meet him at his fusion restaurant Chinois on Main in Santa Monica later that evening. When Darren and I arrive to Chinois, we're greeted by the neon canopy -- a much different feel than Spago.
Don't Miss

Right inside the door we met Bella-, originally from Russia, she has been greeting patrons at Chinois since the beginning. Wolfgang arrives in his white chef's coat and immediately greets guests, we do what we're here to do and catch it all on camera -- a birthday party, a couple of guests who've been coming for 20 years, someone who whispers before he arrives at the table to her husband whether or not to mention to him she's not happy with her signature catfish dish. In the end, she doesn't say a word about the fish and smiles and asks for a photo instead.
Back in the open kitchen, surrounded by a counter with stools, guests wait with cell phone cameras ready to catch Wolfgang in action. Darren and I squeeze with him back into the kitchen to see him with woks over flame preparing his fusion dishes of flash-fried sushi and lobster with ginger garlic and soy. We video tape a great opening and then join Wolfgang for a meal after the crowd thins at the end of the night. What a day.
E-mail to a friend