By Paul Willis
For CNN






LOS ANGELES (CNN) -- Since he opened his first restaurant in the heart of Beverly Hills in the early eighties, Wolfgang Puck has gone on to become a household name in the U.S.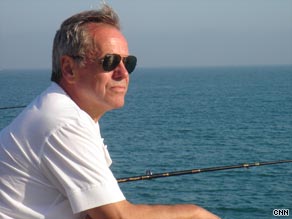 Puck says L.A. has perfect weather, "fabulous light and very little rain"
His chain of airport restaurants stretch across the states while his brand adorns everything from pizzas to non-stick pans. He lives in Los Angeles with his second wife and their two young children.
CNN: What first drew you to L.A.?

Wolfgang Puck: I came to the U.S. when I was 24. I spent a month in New York and a year in Indianapolis but I always dreamt about the beaches in California. I had a blue 1967 Cadillac. In 1974 I packed my suitcases, put them in a trailer and drove straight to L.A. It took me five days to drive from Indianapolis.


Watch Wolfgang Puck take CNN on a tour of L.A. »

CNN: What has kept you here all these years?
Wolfgang Puck: In L.A. you live in a big city, but you feel like you're in the countryside. For example, I can be at home in the swimming pool and be five minutes from everything. It has the perfect weather -- the movie industry started here because of the fabulous light and very little rain.
See pictures of Wolfgang Puck's Los Angeles
CNN: Does everyone in L.A. want to be an actor?
Wolfgang Puck: It's a city of dreams. It's nice to dream but a lot of people forget it's very difficult. They think you become Cate Blanchett or Jack Nicholson just like that, but these people paid their dues. They forget how much time it took them to get there and how good they really are.
CNN: You are the official caterer to the Oscars. It must an exciting event to be part of.
My City_My Life
Each month CNN visits the world's coolest cities with the celebrities who know them best.


Wolfgang Puck: When we cater the Governor's Ball, we have 300 people in the kitchen and 600 in the dining room. It goes very fast and it's done the right way. I remember Michael Caine came to Spago (Puck's flagship Beverly Hills eaterie) the Monday after the awards with his family and said could he get the same dish that he ate at the awards, which means we really nailed it.
CNN: How has the city inspired your cooking?
Wolfgang Puck: For me, cooking is an expression of the land where you are and the culture of that place. L.A. is a melting pot of many different cultures and we have fabulous ingredients here. If you go to San Diego, San Francisco you can get the best vegetables, the best fruits, sea food -- all these wonderful ingredients.
CNN: How does L.A. compare with New York?
Wolfgang Puck: New Yorkers think they have everything, all the best art and music. But really L.A. is a better place. Some of the most famous artists in the world work right here.
Don't Miss
CNN: You're a big fan of modern art. How did that start?
Wolfgang Puck: I got interested in contemporary art because I worked in a restaurant right across the street from a gallery where they made prints for people like David Hockney. The artists came for lunch at the restaurant so I used to talk to them. Hockney made the first cover of my cook book; I had Andy Warhol do the label for our wine. I feel that painting is in some way like cooking -- if you add a little more blue, a little less blue it doesn't matter.
The same thing with cooking: a little of this, a little bit more of that. As long as the end result is beautiful, that's what counts.

CNN: If L.A. was personified, what would they be like?
Wolfgang Puck: A person who enjoys themselves. They do a great job at work but also can have a good time. To me that's what life is all about.
E-mail to a friend