From John Couwels
CNN





(CNN) -- Business isn't the first thing that comes to mind when thinking about Las Vegas, Nevada, or Orlando, Florida, but these two entertainment capitals are also the top business meeting and convention destinations in the United States.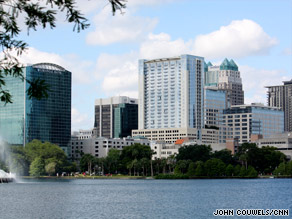 Government agencies have discouraged employees from booking meetings in vacation spots like Orlando.
One of the nation's largest employers has discouraged its employees from booking meetings and conventions in the cities where Mickey Mouse lives and Wayne Newton sings.
In an e-mail between a Federal Bureau of Investigation employee and a Las Vegas hotel, the FBI employee explained why the agency would not hold an upcoming business meeting in the city.
"The Director and DOJ (Department of Justice) have decided conference[s] are not to be held in cities that are vacation destinations/spa/resort/gambling. Las Vegas and Orlando are the first 2 on the chopping block," stated the FBI employee in an e-mail obtained by the U.S. Travel Association and reviewed by CNN.
Department of Justice spokesperson Gina Talamona told CNN, "We do not have a policy prohibiting travel to Las Vegas or Orlando, or any city."
Talamona said administration memos on travel in 2008 and 2009 said to "avoid locations that are lavish or are resort destinations."
A firestorm has begun with recent revelations that the FBI and other government entities discourage meetings in resort destinations. Members of Congress said in a letter to the U.S. Government Accountability Office that this policy is not about saving money but about saving face.
Legislative bills presented in both the House and Senate this week would add language restricting any federal agency from discouraging meetings or conventions in a resort destination.
The U.S. Travel Association says it's frustrating that government meeting destinations seem to be determined not on value but on how the locations are perceived. The association points out that many resort destination hotel costs are below national averages. Las Vegas hotel rooms in May averaged $97, according to the city's visitors authority, and Orlando's average was $103, according to travel research agency STR.
"Eliminating Central Florida based on perception, rather than actual cost, could lead to government waste," said Florida Rep. Suzanne Kosmas in a press release. The congresswoman has called for an investigation into "blacklisting' leisure or resort destinations.
The Orange County Convention and Visitors Bureau in Orlando says its city offered tremendous value for the 10 million business travelers who attended trade shows and conventions in 2008. And, on its Web site, the bureau says this: "We agree that taxpayer dollars should be spent wisely. However, the political rhetoric has created an environment where corporate CEOs are cancelling meetings due to the possibility they may be vilified by the media."
Responding to a letter of concern about the issue from Nevada Sen. Harry Reid, White House Chief of Staff Rahm Emanuel wrote, "I agree that federal policy should not dictate the location where such government events are held."
"Our view on the issue of government travel is not focused on specific destinations, but rather on the justification for the cost/benefit ratio," Emanuel wrote to Reid.
Roger Dow, CEO of the U.S. Travel Association, says intense media scrutiny last year of AIG executives paid millions while the company received billions in bailout money has resulted in the "AIG effect." Corporations and government officials are fearful of being perceived of wasting tax dollars, Dow says.
The U.S. Travel Association says it is concerned because a hotel poll it conducted shows $2 billion was lost in business travel in the first two months of this year. The Orlando visitor's bureau says the 400,000 people employed in the travel industry in Orlando depend on business travel and conventions for their jobs.
E-mail to a friend

All About Business Travel