By Brendan Spiegel





(Budget Travel) -- Prohibition-style bars and speakeasies have been popping up all over, but these lounges go beyond the gimmicks in their near obsessive devotion to the art of old-time cocktails and decor.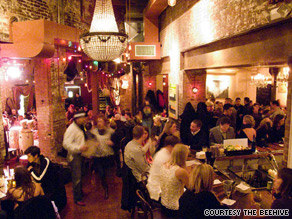 The perpetually packed Beehive in Boston is known for its Beehive julep and champagne cocktails.
The Edison, Los Angeles, California
The 1920s scene at legendary watering holes like the Cocoanut Grove and Ciro's of Hollywood inspired this cavernous lounge, where current industry players mingle in their best vintage cocktail dresses and blazers. The Edison is in the basement of a former power plant; leather furniture surrounds preserved industrial elements like furnaces and power generators. Silent movies play on brick walls, and a circus troupe performs weekly. On Soup Kitchen Fridays, drinks mixed from house-made Bath Tub Gin are 35 cents from 5 p.m. to 7 p.m. and come with free grilled cheese sandwiches and tomato soup. edisondowntown.com.
The Violet Hour, Chicago, Illinois
Luxurious floor-to-ceiling velvet curtains create intimate spaces inside the Violet Hour, discreetly hidden behind an unmarked, wood-paneled door. Circles of high-backed leather chairs and the warm glow from crystal chandeliers and working fireplaces encourage conversation. So does a strict no-cell-phones policy. Eight kinds of ice -- shards, crushed and cubes of varying shapes -- are tailored to specific drinks, which gives an idea of how seriously this bar takes its cocktails. A favorite is the Juliet and Romeo, Beefeater gin with mint, cucumber and rosewater ($12). theviolethour.com. Budget Travel gallery: See the bars
APO Bar + Lounge, Philadelphia, Pennsylvania
Look for the pharmacy cross marking the entrance to APO, short for apothecary -- a place where ingredients like gin and bitters were put to medicinal use way before the cocktail was born. Inside the sleek, green-hued lounge, barkeeps sporting '30s-style suits serve cocktails spruced up with creative, unusual ingredients. The Booty Collins, for instance, is green-tea-infused gin with brandied cherries, passion fruit and homemade seltzer, finished with agave nectar, cayenne pepper and fresh valerian root ($10). The bar recently introduced a simpler recession-proof menu of $6 drinks that lose the exotic accents and just mix fine spirits with fresh fruit juices. apothecarylounge.com.
Flatiron Lounge, New York City
In a landmark 1900 building in Manhattan's Flatiron District, this lounge evokes jazz-age glamour with velvet bar stools, red circular booths and an entire wall covered in blue vintage mirrored-glass tiles. The anchor is the 1927 mahogany bar salvaged from The Ballroom, where Frank Sinatra partied. Painstakingly crafted drinks range from fresh-fruit-infused cocktails ($13) to daily martini flights -- three mini cocktails with a common theme, such as the Flight Back in Time, featuring a Sazerac, a Sidecar and an Aviation martini ($22). flatironlounge.com.
The Beehive, Boston, Massachusetts
Named for a Paris café des artistes that once hosted artists Marc Chagall and Amadeo Modigliani, this Moulin Rouge-esque supper club presents jazz, cabaret and burlesque performances on a shimmering stage draped with theatrical red-velvet curtains. At round stage-side tables, diners feast on stick-to-your-ribs comfort food like gravy-smothered poutine. Chandeliers hang among exposed pipes over the perpetually packed bar, known for champagne cocktails and Beehive juleps ($10.50). beehiveboston.com.
Velvet Tango Room, Cleveland, Ohio
This funky 1800s brick house was a speakeasy during the '20s, and it feels like not much has changed since then, as evidenced by the well-used jazz piano and the secret room hidden behind a two-way mirror. Bartenders measure ingredients on scales to ensure exact proportions go into cocktails ($15) made with throwback mixers like frothy egg whites, fresh-brewed bitters and homemade ginger soda. velvettangoroom.com.
Illusions Magic Bar, Baltimore, Maryland
With custom-made chandeliers above the cherry wood bar and jazz and swing played on the piano, Illusions gives the impression of being like any other roaring '20s-themed jazz club. Not so on Friday and Saturday evenings, when the stage -- cut into the middle of the bar -- hosts a one-hour vaudeville-style magic show ($5 cover). House magician Spencer Horsman escapes from a straitjacket while hanging upside down from the ceiling, a feat best appreciated while sipping a multilayered "magic" martini of Hpnotiq liqueur, Stoli raspberry vodka, pineapple juice and Chambord ($12). The low-key second-floor lounge has leather sofas and retro magician posters that go nicely with Magic Hat beers ($3). illusionsmagicbar.com.
Shanghai 1930, San Francisco, California
China's largest metropolis was known as the Paris of the Orient during the pre-WWII era, when diplomats, artists and expats mingled at over-the-top Chinese dining palaces. That decadent ambience is re-created at this supper club, which has dark wood booths, art deco red-velvet chairs and ornate Chinese rugs. After feasting on opulent dishes like minced roast duck in lettuce petals ($13) guests retire to the backlit Blue Bar for live jazz and absinthe-spiked cocktails ($9-$14). shanghai1930.com.
Sazerac Bar, New Orleans, Louisiana
The fabled bar that first popularized the Ramos Gin Fizz and its namesake Sazerac reopened on July 1 in the revamped Roosevelt Hotel. Paul Nina's original art deco murals adorn the walls of the bar, which has been closed since Hurricane Katrina in 2005. Also inside the hotel, the legendary Blue Room supper club -- where Louis Armstrong and Jimmy Durante cut their chops -- will once again host periodic evenings of Dixieland jazz and big band music. therooseveltneworleans.com.
E-mail to a friend

Get the best travel deals and tips emailed to you FREE - CLICK HERE!
Copyright © 2009 Newsweek Budget Travel, Inc., all rights reserved.
Note: This story was accurate when it was published. Please be sure to confirm all rates and details directly with the companies in question before planning your trip.
All About Travel and Tourism