By Jordan Valinsky
CNN






(CNN) -- Internet travel agency Expedia.com has seen an uptick in bookings to Southern California airports as Michael Jackson fans and funeral goers flock to Los Angeles, California, for Tuesday's funeral.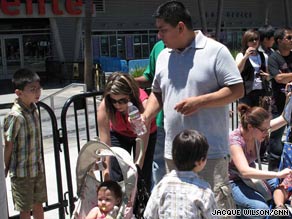 The Alvarez family waits in line to write on Michael Jackson's memorial wall on Monday.
Since Friday, when Jackson's funeral was publicly announced, bookings rose nearly 20 percent year-to-year to Los Angeles International Airport, according to Ian Jeffries, an Expedia.com spokesman. The data measures bookings from June 25 to July 8.
Other area airports also have seen a spike in bookings, including Long Beach Airport in Long Beach and John Wayne Airport in Orange County, which are up 20 percent and 5 percent respectively, according to Jeffries.
Jeffries said there was "no noticeable change" in bookings after Jackson died June 25 until funeral details were announced on Friday. Then, he said, the number was "dramatically different" compared with last week.
Meanwhile, Southwest Airlines, the largest airline in Southern California, has seen a rise in bookings but could not attribute it to Jackson, said Paul Flaningan, a spokesperson for the airline.
"We are definitely seeing high traffic there, but nothing we can attribute specifically to Michael Jackson as it it's a heavy time of year because its summer travel," said Flaningan.
AirTran Airways echoed those sentiments and said that its flights to Los Angeles International Airport are full because of the summer travel season, increased competition on east to west routes and "extremely low fares on extremely full flights," said spokesman Christopher White.
"(Flights are) cheap, it's competitive, it's frequent, so it transcends Michael Jackson's funeral," said White.
Other airlines did not return calls for comment.

E-mail to a friend

All About Michael Jackson • Expedia Inc. • Southwest Airlines Inc. • AirTran Holdings Inc. • California