(CNN) -- The number of Americans traveling over the Fourth of July weekend is expected to dip 1.9 percent from 2008, the AAA said Wednesday.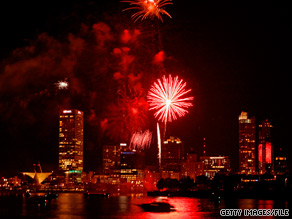 Economic fears are expected to keep more Americans home this year over the Fourth of July weekend.
This year 37.1 million travelers are expected to travel 50 miles or more from home over the holiday weekend, compared with 37.8 million last year.
The association attributes the decrease to Americans' ongoing fears about the state of the economy.
"Many Americans remain cautious about the outlook for their personal finances, and these attitudes are reflected in the slight decline in travel we are forecasting for the upcoming holiday weekend," said Robert L. Darbelnet, AAA president and CEO.
Auto travel is expected to decrease by 2.6 percent, while air travel likely will see a significant rebound from last year's steep decline.
Declining airfares and pent-up demand are expected to yield a 4.9 percent increase in leisure air bookings over the holiday, with 2 million travelers expected to fly, according to AAA. Despite the jump, that figure makes up only 5 percent of overall July Fourth leisure travel. iReport.com: Share photos that capture the American spirit
While this summer's gas prices are lower than last year's record highs, a steep price increase since May may keep more Americans home this holiday, AAA said. On Independence Day weekend, 32.6 million Americans are expected to drive, down from 33.4 million last year.
Those who do choose to travel over the holiday weekend will find lower costs for lodging and airfare.
Travelers are expected to spend an average of $137 per night for AAA three-diamond hotels and an average of $101 per night for two-diamond properties -- rates that reflect a 12 percent drop from 2008.
AAA rates lodging and restaurants on a scale of one to five diamonds, with one meeting basic standards and five ranked as premier places.
The lowest average published airfares over the holiday weekend are expected to fall by 16 percent from 2008 pricing, according to AAA.
"If you can afford to go, this summer is a smart time to travel," Darbelnet said.
E-mail to a friend

All About Air Travel