By A. Pawlowski
CNN





(CNN) -- Raoul Felder still remembers stepping off the Concorde without a trace of jet lag after it whisked him across the Atlantic at twice the speed of sound and wonders why there's been nothing like it since.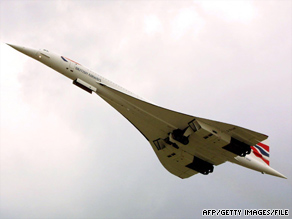 A British Airways Concorde takes off from London's Heathrow Airport in 2001. The fleet was retired in 2003.
The high-profile New York divorce attorney was a Concorde frequent flier, relishing each time he arrived at London's Heathrow Airport a mere three hours or so after taking off from the Big Apple.
The journey takes at least twice as long on a conventional jet.
"I loved it because it made it worthwhile to go to London for two days and the trip was so quick that you would have a meal on the plane, maybe read a magazine or take a nap and you're there," Felder recalled.
"It was a great way to travel. ... I miss it," he said wistfully, adding he would jump at the chance to fly supersonically again.
"It's unfortunate in a society like this there's no comparable means of transportation."
It's been 40 years since Concorde's maiden flight and nine years since one of the planes crashed in Paris, France, after takeoff, killing 113 people.
Air France and British Airways introduced the supersonic commercial service in 1976, but the disaster, combined with high maintenance costs and falling passenger numbers, led both airlines to retire the Concorde fleet in 2003.

See photos of Concorde's beginning and end »
Concorde's legacy
• Concorde cruised at about 1,350 mph, or more than twice the speed of sound

• It flew at altitudes of up to 60,000 feet

• A typical London to New York flight took less than 3.5 hours, or about half the time of a typical jetliner flight

• At supersonic speeds, friction with the air heated the exterior surfaces of Concorde to more than 200 degrees Fahrenheit

Source: The Museum of Flight

The stunning planes with their signature droop noses now sit on display in museums, but the notion of commercial supersonic flight is far from shelved.

The next generation of passenger air travel at speeds faster than sound may start as soon as 2015, with business jets leading the way, said Peter Coen, principal investigator for NASA's supersonic fundamental aeronautics program.

A small supersonic airliner capable of transporting 75 people might follow in 2025 and a larger one could arrive five years later, he added.

"It's no secret that there are still some rather daunting challenges for supersonic flight," Coen said. "[But] we have certainly made some significant progress since the Concorde."

'Shaping the boom'

One of the biggest hurdles has been quieting the sonic boom, the window-rattling sound produced when a plane breaks the sound barrier. It led the United States and other countries to ban supersonic flight over land. The restrictions meant Concorde could mostly fly only over water routes, which limited its market potential. Blog: Will hypersonic flight take off?

But research is now focusing on "shaping the boom" -- technology and airplane design that can soften the noise of a sonic boom to the point where it sounds more like distant thunder, Coen said.

"I'm pleased in the work that I've done that we have gotten to where we really have changed the character of the sonic boom," he said.

"I really do feel that we're at a point where you could have a sonic boom that, in city noise environments, would probably be inaudible to most people and would have at least the possibility of being widely acceptable."

The boom reduction technology comes at a price: A plane equipped with it would burn about 10 percent more fuel. The advances may also be moot until laws prohibiting sonic booms produced by civilian planes are changed to allow the quieter ones.

Still, companies like Aerion Corporation and Supersonic Aerospace International are touting supersonic business jets that they say will be ready for certification in the next decade.

Aerion promises its plane will be able to cruise at just below the speed of sound over the continental U.S. and fly "boomless" at just above the speed of sound in other regulated regions.

SAI says its Quiet Supersonic Transport (QSST) jet "will have 'supercruise' sound levels that are so low that SAI believes QSST will be capable of receiving governmental approval for supersonic flight over land and populated areas without causing objection from the general public," according to the company's Web site.

Both companies have credible, viable programs, Coen, of NASA, said.

Meanwhile, Gulfstream Aerospace, which has been making business jets for decades, continues basic research into sonic boom suppression, but doesn't have further plans for now.

"It is our belief that until the regulations which restrict supersonic flight over land are changed there is no real business case for a supersonic business jet," said Robert Baugniet, the company's director of corporate communications.

Pricey tickets

Commercial airplane manufacturers also have little on the drawing board in the supersonic area. Boeing, for example, is continuing to assess the technologies, but isn't working on any particular design right now, according to spokesman Richard Schleh.

Industry observers say that's not a surprise, given the vast and unpredictable costs of operating an airline, which in turn limit market appetite for supersonic planes.

"The likes of Boeing and Airbus will only come up with hardware for which there is a demand, and the demand is driven by the airlines and it's rigidly subsonic," said Chris Yates, aviation analyst for IHS Jane's.

Then there's the question of affordability for travelers. Just before the Concorde was retired, a round-trip ticket from New York to Europe cost about $10,000, making it off limits to much of the flying public.

Still, experts believe the allure of cutting some of the misery out of long-haul flights will always be worth a premium price for frequent travelers.

"To say that it would be the same price as a subsonic ticket is ridiculous because in the market, you get what you pay for," Coen said.
"So if you get to go there faster you're going to pay more. But if we can get to where it's the difference between a coach and a business-class ticket, I think lots of folks who travel regularly would be willing to make that investment."
E-mail to a friend

All About NASA • Boeing Company