By Lisa Respers France
CNN





(CNN) -- Preparing for summer camp can be stressful.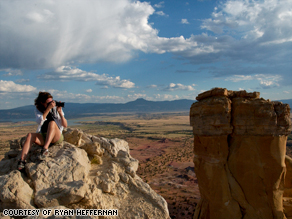 Photography enthusiasts can spend part of their summer at Santa Fe Photographic Workshops.
There's the packing, the anxiety of whether you'll make new friends and ensuring that the mortgage and other bills get paid while you are away.
When the weather heats up, kids aren't the only ones trudging off to enjoy the lazy, hazy days of summer with their peers.
Across the country, there are summer camp experiences for adults where they can indulge their interests from photography to race car driving or simply just relax with other grownups.
"People want to enjoy a moment again from their childhood that they remember, and it is exactly that," said Mark Braunstein of Singles Travel Service, a tour operator that offers a weekend adult summer camp at a resort in the Berkshire Mountains of southern Connecticut.
With all of the stresses of life, getting away from it all -- even for just few days -- can be invigorating.
That experience can be even more rewarding for an adult recalling childhood memories of summers past, Braunstein said.
"When you travel to go to camp, you've got a bathing suit, two pairs of shorts, tennis shoes and four T-shirts, so everything you have can fit in your backpack," he said. "That kind of experience is so different than the life you live where you are going to an office and you are working on a computer all day."
When it comes to summer fun, there is something seemingly for everyone.
And despite a down economy, there are many who view an adult summer camp experience as priceless.
Helen Smith started attending Blue Lake Fine Arts Camp 10 years ago to indulge her love of music.
It had been 40 years since she had stopped playing the trombone, and Smith jumped at the chance to reconnect with the instrument and with other musicians on the shore of Little Blue Lake in Manistee National Forest just north of Muskegon, Michigan.
"It has just given new focus to my life," said Smith, who enjoyed childhood summer camp, where she swam and learned arts and crafts. "I love music, and it brings me a great deal of joy to play."
The four-day camp for adults costs $190 per session, which includes all instruction and meals.
Campers give a concert at the end of their session where proud family members turn out to cheer the performances.
Blue Lake has offerings for younger campers, and Smith said she learned of the facility after her children attended. These days, she gets a kick out of having her daughter and granddaughter in the audience at her camp concerts.
As to whether it feels strange to be back at camp at an age when many of her friends are seeing their grandchildren off to similar experiences, Smith said there are parts of the experience that take her back to her childhood.
"We have to wear a uniform, and that part feels funny for me," Smith said, laughing.
One of the perks of attending camp as an adult is that accommodations no longer have to mean humid cabins with lumpy bunk beds and plenty of insects for company.
At the Crow Canyon Archaeological Center in Cortez, Colorado, participants in the summer Adult Research Week can stay on-site in comfortable hogans -- Navajo-style dwellings -- while they unleash their inner Indiana Jones during digs.
Prices for the week range from $1,150 to $1,400, which includes accommodations, meals, local transportation, entry fees and permits.
David Floyd, a banker from Albuquerque, New Mexico, and his wife, Norine, have enjoyed learning about the archaeology of the Mesa Verde region and the Pueblo Indians.
Floyd said the beautiful setting and mentally stimulating activities have kept him coming back for five years. After all, who wouldn't love playing in the dirt while searching for artifacts?
"It causes you to look at your place in history," Floyd said. "And you really feel like a part of the [archeological] team. I love it."
Surrounding beauty also attracts the eye of those who attend the summer programs at Santa Fe Photographic Workshops, whose campus rests in the foothills of the Sangre de Cristo Mountains.
Participants can stay in the dormitory-style housing while they learn to hone their photography skills from some of the top-rated photographers in the field, like Sam Abell and Catherine Karnow.
Director of Marketing Deb Mindel said base tuition for the week-long workshops starts at about $900, and many of the campers choose to stay in the adobe-style accommodations as they bond with others over their craft.
"One of the common threads we hear about is the camaraderie," Mindel said. "People really let their guard down, get to know each other, and in some cases form friendships and connections that last well beyond the workshop."
Those who dream of being in front of the camera can head off to the famed Second City in Chicago, Illinois, which has helped launch the careers of stars like Tina Fey, Steve Carell and Amy Poehler.
Kate Cohen, adult program coordinator for Second City Training Center, said summer immersion programs in improvisation and comedic writing attract funny folks from across the country.
The classes run during the day for either a week or two, and Cohen said there are classes for those seeking advanced, specialized instructions in topics like musical improvisation and clown physical theater.
The cost is $285 for one week of improvisation or writing, $525 for both and $1,000 for two weeks of the program. Participants must arrange their own accommodations.
Like Second City, those at Blue Lake Fine Arts Adult Camp often book their own rooms at nearby hotels and bed and breakfast inns.
Attendee Helen Smith doesn't mind that at all and said she is just happy she dragged her son's trombone out of the closet a decade ago.
"I have been going there every summer," the former teacher said. "To see the growth that has occurred in my playing in 10 years ... I'm not at the level I would love to be, but I am having fun trying."
E-mail to a friend

All About Travel and Tourism • Music • Photography • Second City Inc. • Chicago