By Jessica Ravitz
CNN





(CNN) -- If Daniel Vaughn has his way, he said, his newborn daughter will "teethe on a rib bone."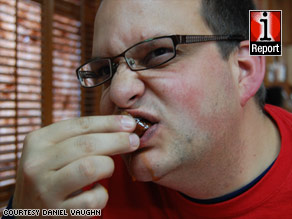 Daniel Vaughn tries, and wears on his chin, spicy smoked sausage from Gonzales Food Market in Gonzales, Texas.
It's not that the Dallas, Texas, architect means to channel his inner caveman. He just loves barbecue and, given that his wife doesn't, is hoping the little one will share his passion for " 'cue," as he calls it.
"My main quest is to find the best in Texas," said Vaughn, 31, who phoned CNN while he was heading to his 168th barbecue joint since he began his search in August 2006.
So far, listed among his favorites: Snow's BBQ in Lexington and Kreuz Market in Lockhart.
"The best experience is finding a place you've never heard of, a place that's not on anyone's list," he said. "It feels like you've really discovered something special."
Vaughn's journey, which is chronicled on his blog Full Custom Gospel BBQ (which also features reviews), is just one illustration of how this American culinary tradition has taken hold. It has spawned pilgrimages to out-of-the-way shacks, associations and "societies," competitive cook-offs and countless debates among those who take this smoked-meat matter most seriously. iReport.com: Vaughn's tasty experience at Kreuz Market
"It's a combination of flavors, sights, smells, sounds, people and stories," said Mark Dunkerley, 32, of Nashville, Tennessee, who embarked on his own barbecue quest last fall (a road trip spanning four Southern states) and named The Bar-B-Q Shop in Memphis, Tennessee, as his top pick. "Anything you spend six to 18 hours preparing, it's more than a meal. It's an event."

Check out some iReporter BBQ joint recommendations »
This "event" became possible about half a million years ago, when humans discovered fire. For about 250,000 years, humans have been throwing meat on and around the flames, said Steven Raichlen, best-selling author of "The Barbecue Bible."
Don't Miss
But the 16th century Spanish explorers to the Americas first chronicled the unique cooking technique that became barbecue when they came across the Taino Indians of the West Indies using a barbacoa, their word for a wooden framework propped above flames, to smoke meat.
It was a way to preserve meat and was later popularized by the poor and slaves, who didn't have refrigeration, explained Amy Mills, daughter of barbecue's legendary champion pit master and restaurateur, Mike Mills, with whom she co-wrote "Peace, Love, and Barbecue."
The smoking approach was also useful in that it tenderized lesser cuts of meat, said Mills, whose father is behind the ribs celebrated at 17th Street Bar & Grill in Murphysboro, Illinois, and Memphis Championship Barbecue in Las Vegas, Nevada.
"Today, barbecue has enjoyed a renaissance," securing its berth as "America's original comfort food," which is especially important in these tough economic times, when supporting local and affordable businesses is more popular than ever, Mills said. "It's the most democratic food group. You can come into a barbecue restaurant and find people in ties and people in overalls. ... You leave your title at the door."
Depending on where you are, the meat and smoking wood that is used, the sauce (if there is one) or the rub, barbecue can mean many different things, Raichlen, the best-selling author, journalist, cooking teacher and TV host pointed out.
5 great BBQ joints
Cozy Corner, Memphis, Tennessee

Kreuz Market, Lockhart, Texas

Checkered Pig, Martinsville, Virginia

Whole Hog Cafe, Little Rock, Arkansas
The Pit, Raleigh, North Carolina

Recommended by Amy Mills, co-author of "Peace, Love, and Barbecue"
While it's pulled pork with vinegar sauce in most of North Carolina, Raichlen said barbecue is, for example, mutton with butter and Worcestershire sauce in Owensboro, Kentucky, grilled bratwurst in Sheboygan, Wisconsin, and oysters on the half-shell with chipotle sauce in Tomales Bay, California.
"We live in a world of homogenization," he said. Barbecue is "the last bastion of regional culture, and I think that's one reason we prize it so dearly."
Fans, in fact, prize barbecue for a multitude of reasons. For city slickers, who live in places where backyard smokers are not viable or even legal, a country jaunt for some finger-licking meat can be an escape. And the time, sweat and, indeed, "labor of love" shown by those who run these establishments, as Dunkerley of Nashville puts it, is something to behold and honor.
The slow food, which bucks the nation's fast-food focus, is "a backlash against the hustle and bustle of daily life," said Carolyn Wells, executive director and co-founder of the 10,000-member Kansas City Barbecue Society, which she calls "the world's largest organization of barbecuing and grilling enthusiasts."
"It's not a solitary pursuit," she said. "It's something you do with your family and friends."
This might be why barbecue is, for Frank Beaty, a reminder of different times and people. iReport.com: Beaty's barbecue recommendations
He may live in Las Vegas, Nevada, today, but Beaty, 55, grew up in Texas, the grandson of Dempsey Davis, a man who "grew his own meat." Using an "old brick smokehouse," in Paris, Texas, Beaty said Dempsey practiced what he preached.
"My granddad said two things about barbecue," Beaty said. "If you have to have teeth to eat it, it's not right. And if you have to put sauce on it, it's not right."
For 35 years, wherever he's traveled as a festival producer, Beaty said he's always been on the lookout for the best and most tender barbecue a town can offer. One of his top choices, a surprise even to him: Everett and Jones in Oakland, California.
"Texas has the best barbecue, but somehow Everett and Jones migrated from the south," Beaty said.

Because his wife will rarely join him, Vaughn -- the man on a mission in Texas -- counts on some friends to help him on his traveling feeding frenzy. In March, he said he and two cohorts outdid themselves, setting a record: 10 barbecue restaurants in one day.
"You get the meat sweats, where you rub your brow and it comes away smelling like smoke," he said with a laugh. "But you get used to it."
E-mail to a friend

All About Travel and Tourism • Food and Cooking