(CNN) -- Steeped in history and bursting with energy, Moscow is endlessly intriguing. Make the most of the city these insider tips.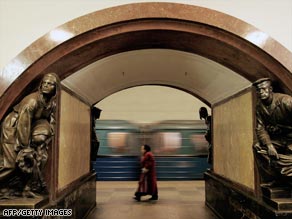 Moscow's Metro system is a tourist attraction in its own right.
Magnificent metro
Moscow is huge, but blessed with a Metro system that is not only efficient, but a tourist attraction in its own right.
Built by Stalin in the 1930s, the metro boasts unusually attractive stations, clad with marble, and decorated with statues, mosaics, frescoes and chandeliers. The elegant walkways look more like stately ballrooms than the grimy tunnels that serve most underground rail systems.
Metro maps use both the Russian Cyrillic alphabet and Roman letters, but station signs are only in Cyrillic. Tickets are sold at booths and can be bought for single or multiple trips, with a single costing 55 cents. The only down side to the Metro is that with more than 9 million passengers a day, it can get very crowded. For more information visit http://engl.mosmetro.ru/.
Izmaylovo Market
This sprawling flea market sells art, crafts, bargains and junk, and is a great place to pick up some authentic Soviet-era memorabilia.
You'll find what is reputed to be Moscow's biggest collection of "matryoshky" (nesting dolls) alongside rugs from Central Asia, traditional fur hats and Soviet posters featuring stern-faced Lenins and muscle-bound workers tilling the soil of the motherland. That smell wafting on the breeze is grilled lamb kebabs, which demand to be sampled.
The market opens from 9 a.m. to 6 p.m. on Saturdays on Sundays. Just make for Partizanskaya Metro station and follow the crowds.

See Natalia Vodianova's Moscow. »
Get steamy
There isn't a more authentically Russian experience than getting steamy at a "banya," or bathhouse. Resembling a kind a masochistic sauna, "banyas" are an important part of Moscow social life and combine the twin pleasures of intense heat and self flagellation.
Steam is provided by water poured onto furnace-heated rocks. The whipping can be self-inflicted or carried out by a "banya" buddy using a bundle of branches and is said to have a cleansing effect. Once you're all hot and beaten it's time for a dip in an icy plunge pool, which, no doubt, gets the circulation going.
What are your tips for Moscow? Let us know below.
Finally, you wrap up in a sheet and drink beer with your fellow bathhouse-mates, repeating the whole process as many times as you wish.
Sanduny Baths (14 Neglinaya Street) is Moscow's oldest and most famous bathhouse, decorated with ornate wood carvings and white marble pillars. It's also the perfect place to hide from the Moscow winter.
Don't Miss
Russian winter
Moscow can look truly magical under a blanket of fresh snow, and as a winter visitor you'll be rewarded with events like December Nights, the Winter Festival and two New Year celebrations. But if you're planning to brave the Russian winter, where temperatures can often dip below -4 F (-20 C), you'd do well to go prepared.

Muscovites use a combination of fur coats and nips of vodka to stave off the cold. Wrapping up warm is essential, but even in the depths of winter many buildings will be uncomfortably warm indoors, so easily removable layers of clothing work better than heavy-duty thermals. Snow-proof boots are essential.
Remember that Russians celebrate Christmas on January 7 and New Year's Day on January 13 as well as January 1. The spring thaw usually arrives in late March, when the winter snow turns into an unsightly muddy slush.
E-mail to a friend