(CNN) -- Americans planning to go to Mexico should "postpone" their trips because of the swine flu outbreak, a top health official said Tuesday.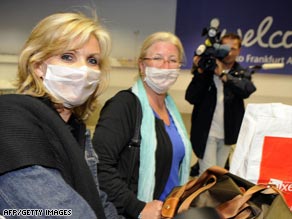 Two women wear face masks as they arrive at Germany's Frankfurt International Airport from Mexico City.
"Based on what I know as a public health official and as a physician, I would not recommend people go on nonessential travel," said Dr. Richard Besser, the acting head of the Centers for Disease Control and Prevention.
"If I had vacation plans in Mexico coming up right now, I'd look to postpone those," he said on CNN's "American Morning."
The CDC issued a travel health warning about Mexico on Monday, and the U.S. State Department issued a travel alert -- not the more serious warning -- based on the CDC advice. U.S. consular operations in Mexico will be affected by the swine flu outbreak, the State Department said in its alert Monday.
European Union health commissioner Androulla Vassiliou warned Monday against nonessential travel to "areas which are reported to be the center of the clusters" of infection.

Learn more about swine flu »
She did not issue a travel advisory, as some reports initially suggested. The EU does not have the power to issue such warnings.
Don't Miss
"I would also suggest to travelers to seek immediate medical advice if they have any of the symptoms described," she said, in what the EU later clarified was a personal statement.
Some European Union countries issued travel warnings of their own, including Britain.
That prompted some tour operators to cancel trips to Mexico, including Thompson First Choice, Thomas Cook and Virgin Holidays, three of Britain's biggest travel agencies.
Thompson is bringing vacationers home to Britain from Mexico and canceled flights there Tuesday.
Thomas Cook put all trips to Cancun on hold for a week and offered free changes in destination to anyone booked to vacation in Mexico in May.
Virgin is shelving trips to Mexico through May 5.
There are probably 10,000 British people on vacation in Mexico's Yucatan peninsula, Frances Tuke of the Association of British Travel Agents said
"That's a lot of flights that are needed" to bring them home, she said. "There are a lot of logistics issue there in terms of bringing people home."
Carnival Cruise Lines canceled ports of call in Mexico for three of its ships Tuesday, the company said. It is continuing to finalize plans for upcoming cruises, it said, and planned to release details later Tuesday or early Wednesday.
Canada's Air Transat is postponing its flights from Canada to Mexico through June 1 and from France to Mexico through May 31, it announced in a statement.
Many countries are checking travelers as they arrive, including China, which is screening aggressively in the wake of the SARS outbreak that killed almost 350 people there in 2003.
Indonesia is putting travelers through a thermal scanner that spots excessive heat; those who test positive go through a "body-cleaning machine" that sprays a disinfecting solution of 70 percent alcohol on their hands and body.

The system does not detect viruses and was not put in place because of swine flu, Indonesian health officials say, but is intended as an early-warning system to prevent diseases from entering the country.
Japan suspended visa waivers for Mexican visitors, a Foreign Ministry official said.
E-mail to a friend

CNN's Alysen Miller, Isa Soares, John Zarrella, John Vause and Arwa Damon contributed to this report.
All About Travel and Tourism • U.S. Department of State