(CNN) -- The number of Americans killed on U.S. highways last year was the lowest since 1961, the Department of Transportation announced Monday.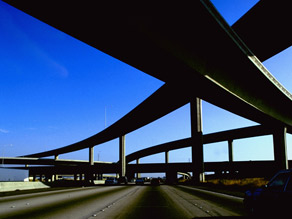 The number of fatalities on U.S. highways dropped in 2008 to its lowest level since 1961.
Last year's death toll was put at 37,313. In 1961, the number of lives lost was 36,285. The numbers were compiled by the DOT's National Highway Traffic Safety Administration.
In addition, the rate of deaths on U.S. highways hit a record low last year -- 1.28 fatalities per 100 million vehicle miles traveled, down from 1.36 in 2007, the department said in a news release.
U.S. Transportation Secretary Ray LaHood credited more widespread seat belt use for the drop. NHTSA estimated that Michigan had the highest seat belt use, at 97.2 percent, while Massachusetts registered the lowest, at 66.8 percent.
"States like Michigan are raising the bar on seat belt use, making communities safer and keeping families intact," said LaHood.
Use rates of at least 90 percent were tallied for 16 states and territories: Michigan, Hawaii, Washington, Oregon, California, Maryland, Iowa, Puerto Rico, New Jersey, Delaware, Indiana, Texas, Nevada, New Mexico, Illinois and the District of Columbia.
Massachusetts, Wyoming and New Hampshire had the lowest use rates -- all below 70 percent.
States with laws mandating the use of seat belts tended to have higher use rates.
E-mail to a friend

All About Traffic Accidents • Ray LaHood