By Lauren Kornreich
CNN






WASHINGTON (CNN) -- It's that time of year again, when the last snow storm has become a distant memory and the weather starts to turn a little warmer. Spring is in the air and that means one thing for Washington: cherry blossoms.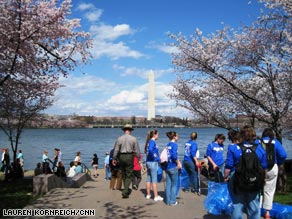 The National Cherry Blossom Festival runs through April 12.
The National Cherry Blossom Festival kicked off on March 28 and runs through April 12, and more than a million people are expected flock to the nation's capital to visit the thousands of cherry trees and participate in the festival's activities.
The main attraction is the Tidal Basin, where thousands of pink flowers bloom alongside some of Washington's most picturesque monuments, such as the memorials to former Presidents Franklin D. Roosevelt and Thomas Jefferson. The annual festival commemorates the gift of 3,000 cherry trees from the mayor of Tokyo to Washington in 1912.
On a sunny Sunday, with temperatures in the mid-60s, visitors strolled through the blossoming trees along the Tidal Basin during the festival's opening weekend. Ed Carden, from Leesville Lake, Ohio, said he first saw the cherry blossoms when he was a teenager and that he had tried for years to come back.
"They're magnificent, stupendous," Carden said. "This is the first time I'm seeing them as an adult. I've been trying to hit it for at least 15 years and finally we made it. It was worth the wait, every second."

See photos of the blossoms »
First-time visitor Marcelle Klahr, from Philadelphia, Pennsylvania, said she heard that the setting was beautiful and decided to come and see it for herself. She said she would come back to the festival again in the future.
"I think it's stunning, I think the whole setting is absolutely stunning," Klahr said. "I think it's nice that it's natural and not sort of a man-made beauty. It's just lovely to walk around."
But the best is yet to come, as the flowers are expected to peak Wednedsday through Saturday, just in time for the festival's main events. Saturday is the big day, when one of the main highlights includes a giant parade that stretches 10 blocks along Constitution Avenue.
The parade kicks off at 10 a.m. Tickets for grandstand bleacher seating are sold out, but standing along Constitution Avenue between 9th and 15th streets is free.
Don't Miss
Alongside floats, marching bands and other performers, Alex Trebek, the host of "Jeopardy!," will serve as the grand marshal. Trivia junkies interested in trying out for the show will get their chance on Saturday at Montgomery College's Germantown campus from to 2 to 4 p.m.
After the parade ends, visitors can head over to the Sakura Matsuri festival, a Japanese street fair billed as the largest in the nation. There, visitors can purchase Japanese food, check out a Japanese beer garden, shop for Japanese products and watch traditional performances and sumo wrestling. The man who created the Sudoku craze, Maki Kaji, is also expected to make an appearance.
If a day of seeing cherry blossoms gives visitors a craving for cherries, they're in luck, as restaurants all over Washington are creating some aptly-flavored drinks and desserts, called "cherry picks." Restaurants showcased on www.GoOut2Eat.com will promote their "cherry picks" and provide special deals on drinks and food.

Diana Mayhew, the president of the National Cherry Blossom Festival, said that "cherry picks" program is a perfect example of the entire city coming together to celebrate. She said she couldn't pick her favorite event, and visitors should try a little bit of everything.
"Visitors should come and spend a couple of days in Washington and just enjoy a lot of different events," Mayhew said. "Go into the city, enjoy D.C. The festival is beyond the Tidal Basin, go to the neighborhoods and see how everyone celebrates spring."
E-mail to a friend

All About Travel and Tourism • Washington, DC