By Mike M. Ahlers
CNN Producer





WASHINGTON (CNN) -- Four small airlines have become the first to participate in the "Secure Flight" program, which transfers responsibility for checking passengers' names against terror watch lists from the airlines to the federal government, the Transportation Security Administration announced Tuesday.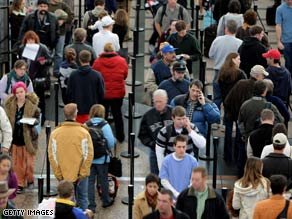 Four small airlines are the first to participate in the "Secure Flight" program, which checks passenger names.
The change was a key recommendation of the 9/11 Commission, which found that the government failed to give airlines a complete list of known terrorists and terror suspects because it was concerned about sharing intelligence information with private firms.
The solution, the commission said, was to put the job in the government's hand.
The first carrier began "Secure Flight" screening on January 27, and three other carriers have since joined, TSA officials said.
It declined to name the airlines, citing security concerns. But it noted that its goal is have the TSA vet names on all domestic flights by early next year, and all international flights by the end of 2010.
Some 50,000 names have been vetted thus far, the TSA said.
"Our experience thus far has been a good one and has validated the program choices we made," TSA Acting Administrator Gale Rossides told Congress on Tuesday. Rossides called it a "major milestone in the history of our agency."
Air travelers will notice a few differences. When passengers make an airline reservation, the airlines will be required to ask for a passenger's full name, birth date and gender.
That information will be given to the government, which will compare it with a "no fly" list of people prohibited from flying, or a list of "selectees" who can fly after they pass additional physical screening.
Early efforts to create the Secure Flight program were beset by problems, including program delays and complaints of privacy breaches. Finally, in 2006, after the TSA spent more than $130 million and four years on the system, then-TSA-director Kip Hawley ordered a complete overhaul of the program and dropped plans to check passengers' names against commercial databases, one of the most contentious features of the program.
The TSA says the new system will greatly reduce the number of instances in which innocent passengers are misidentified as terror suspects.
Secure Flight will increase safety in the system, TSA spokeswoman Sterling Payne said.
"Our job is security. The airlines' job is to make money. It's common sense for us to be the ones vetting these names," Payne said. "It's no slight to the airlines. It's just this is what we do."

E-mail to a friend

All About Transportation Security Administration