By Peter Wilkinson
CNN





LONDON, England (CNN) -- A British blogger is trying to travel as far around the world as possible in 30 days, relying only on the goodwill of people using social networking site Twitter.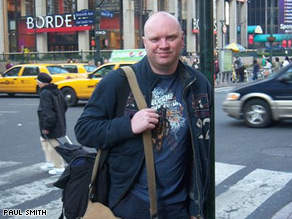 Paul Smith poses in New York in a picture posted on his Flickr page.
Paul Smith aims to travel to Campbell Island in New Zealand, the opposite side of the planet to his home in Newcastle-upon-Tyne, in northern England, and back again "to see if it's possible ... because it might be fun."
He also aims to raise money for a water charity, and has so far had more than $6,400 pledged in online donations.
Smith's self-imposed golden rule is that he can only accept offers of travel and accommodation from people who use Twitter, a micro-blogging service that allows people to "tweet" what they're up to (or what they're thinking about) in 140 characters or less.
Smith is also banned from making any travel plans more than three days in advance and has to leave each location within 48 hours of arriving.

Watch as Paul Smith travels around New Zealand »
He has been successful so far. Since starting his odyssey on March 1 with just a ferry ticket to the Dutch city of Amsterdam the journalist has visited France and Germany, before working his way across the United States. Follow his journey
Smith has more than 800 people following his progress on his Twitter page on which he has posted 1,000 updates this month. He has hitchhiked his way across the USA, stayed in plush hotel rooms and on airbeds on floors, met a Hollywood star and been interviewed on several TV shows. Comment on Paul Smith's journey
On March 21 Smith flew from Los Angeles to Auckland, New Zealand through the generosity of an airline and is now trying to reach the uninhabited Campbell Island in his remaining days.
But in his most recent blog, posted on Monday, he admitted he faced an uphill battle against officialdom to travel to the UNESCO World Heritage site.

When told that traveling to Campbell Island required a long application process and asked if he would settle for visiting a nearby island instead, he wrote, "Absolutely not. Stewart Island sounded all very well and good, but I couldn't give up on Campbell Island yet.
"With nine days to go, I couldn't suddenly move the goalposts -- why would anybody continue to support me if I gave up and changed the rules?"
E-mail to a friend