By Hilary Whiteman
CNN





LONDON, England (CNN) -- Airlines are failing to adequately compensate passengers for lost and missing bags, according to industry rights group the Air Transport Users Council (AUC).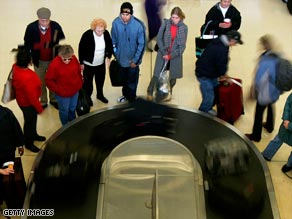 Tens of millions of bags are mishandled by airlines worldwide each year.
The AUC says many passengers are left "out of pocket" because there's no financial or legal imperative for airlines to offer a decent payout.
"It's easy for an airline to try to get rid of a passenger with a small settlement which is what we're finding they're doing," said James Fremantle, AUC Industry Affairs Manager.
The latest industry figures show 42 million bags went missing worldwide in 2007. Of those, 1.2 million were never returned.
Passengers whose bags have gone missing are entitled to maximum of 1,000 Special Drawing Rights (SDRs), or around $1,500, to cover emergency expenses and any damage caused.
The limit is set by the Montreal Convention which governs airlines' liability for passengers and their baggage. The AUC says it has received more than 2,000 written complaints since the Convention was introduced in 2004. Have your bags ever gone missing? Sound Off below
"I don't think it needs to change," Fremantle told CNN. "I think what needs to change is the airlines' interpretation of it."
The AUC has named low-cost carriers as the worst offenders; Ireland's Ryanair offers passengers just £15 ($21) a day to cover emergency expenses.
Don't Miss
Full-service carriers have a better record when it comes to payouts, but even then, the AUC believes they should do more.
"We think £20 to £30 ($28 to $42) a day is a fair amount to compensate passengers if their bag is delayed," Fremantle said.
Case studies presented by the AUC include one passenger who claimed £1,120 ($1,570) for a lost bag but didn't have the receipts to back up her claim. She received £79.34 compensation ($111.10).
"It's impractical to expect everyone to have a receipt for all their belongings and it's something they've got from insurers," Fremantle said. "We think airlines and insurers are different because it's the airline that's actually lost the bag so they should take responsibility."
The AUC concedes neither it, nor any other body, has the power to force the airlines to change.
However, it's encouraging passengers who think they have a good case to pursue the relevant airline in the small claims court.
The AUC says while passengers can't prevent their bags from going missing, there are a few things they can do to be prepared.
1. Buy travel insurance. "You're likely to be able to get better settlements from insurers," Fremantle said.
2. Use a secure identity tag on your bags. One of the main reasons bags go missing is because the airline's identity sticker falls off.
3. Don't pack your bag too tightly. Bags stuffed full of clothing are more likely to break and be damaged as they move through the airline's baggage handling system.
If your bag is lost, the AUC advises passengers to ask the airline exactly how much money they're entitled to spend. "Having said that," Fremantle told CNN, "Don't scrimp and save. The airlines are liable."
E-mail to a friend