By Adam Woods
For CNN






(CNN) -- Waiting for news about my flight, I started to read the fascinating autobiography of Carlos Acosta, the man I was trying to meet half way round the world.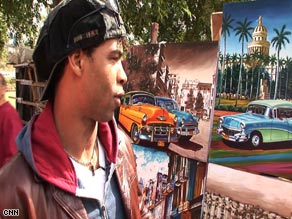 Carlos Acosta shows CNN around an art market in Havana.
His journey -- from the backstreets of Havana as a poor self-styled "mango-thief" to dancing on the sumptuous stage of London's Royal Opera House -- was exactly the one I was trying to make in reverse.
I was in the middle of one of the worst UK snowfalls in recent times, stuck at Heathrow Airport in London. All flights, trains, and buses cancelled.
And, if he could beat all the odds, I certainly wasn't going to let him down -- snow or no snow.
After all, the title of his autobiography is "No Way Home."
Fortunately, London cabbies need more than a few inches of snow to stop them, and 24 hours later, I was in Havana, courtesy of a Eurostar train and a flight from Paris.
I was going to meet the man once called "The Flying Cuban" and film him taking us round his home city of Havana for CNN's My City My Life.
I soon realized why his city continues to be a huge source of inspiration for him -- in our first hour of filming he took us to an amazing art market, where the vivid colors jumped out from the canvases.
All around were signs of the Habaneros' rich seam of creative improvisation -- not least the ageing American classic cars and Russian Ladas, held together with equal parts wire and hope.

Watch Carlos Acosta take CNN on a tour of Havana. »
As Carlos pointed out, Cuban's art, their creativity, and above all their music, acted as a kind of "shelter" against the trials of everyday life. We were filming in a poor neighborhood with camera equipment worth much more than the average man's yearly pay, yet I have never felt so relaxed and welcomed.
The "against the odds" spirit of the Cuban people came into clearer focus when we visited Carlos' old ballet school. Despite the building's physical decay, evident after years of neglect during Cuba's "Special Period" of economic decline in the 1990s, every room had potential ballet stars in the making.
The intense concentration on students' faces showed the kind of determination that became the hallmark of Carlos' early career. And, as the youngsters eagerly queued up to have their photograph taken with him, I was struck by just how much of a star he was in his homeland.
A clue to Carlos' success came when we visited his family, now living in a smarter Havanan neighborhood than the one he grew up in -- evidence of how his hard work and dedication have paid off.
I could see the tough history of a lorry-driver's life etched deep into his father's 90-year-old face.
I could also see the steely ambition for his son that must have pushed Carlos on to greater achievements in his career.
His father's own dream to be a ballet star was denied through a combination of his status and race in a Cuba before Castro's revolution.

"You make your own luck" was the thought that lingered in my mind as I reluctantly left Havana -- a city that bears testament to how energy and determination can produce one of the world's leading dancers.
Despite continued economic deprivation, the energy and warmth of Cuba's people gives the country a unique spirit -- one that is aided by a rich artistic heritage, and one of the highest literacy rates in the world.
E-mail to a friend