By Emma Clarke
For CNN





(CNN) -- Wary of blowing your travel budget on another characterless hotel room? Hoping for a trip with a certain 'je ne sais quoi'?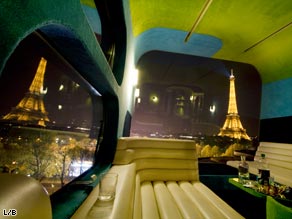 What dreams are made of: Artist duo L/B's hotel sits atop the Palais de Tokyo in Paris.
Check out these weird and wonderful hotels to ensure a touch of travel sparkle, even when the purse strings have been tightened.
A must for aviation enthusiasts, the Jumbo hostel is the first aircraft in the world to be converted into a hotel.
The former Pan American Boeing 747 parked near Arlanda Airport in Stockholm, Sweden holds 25 rooms, each with a bunk bed, an overhead luggage compartment and a flat-screen TV.
It opened for business in January charging $43 (350 SEK) a night for dorm beds to $410 (3300 SEK) a night for the best room on the plane -- the cockpit.
CNN's Adrian Finighan spends a night at the 747 hostel on February's edition of Business Traveller.
A night in a converted drain pipe (perhaps unsurprisingly) also comes cheap. Visitors to Dasparkhotel in Ottensheim, Austria pay as much as they want to stay in one of three converted pipes and they get a verdant park a step from their circular doorstep.

See photos of the world's most unusual hotels. »
Run by a quirky couple who themselves sleep in a old double-decker bus, the Controversy Hotel in Hoogwoud, Netherlands offers a train carriage and tram cars to sleep in. The train carriage has a Jacuzzi in the shape of a sombrero, a bed shaped like a row boat and a music system with 70s and 80s music.
Hostel Celica is a renovated prison turned into a hostel in the center of Ljubljana, Slovenia. Guests can sleep in one of the 20 artistically renovated former cells with bars on the door and on the window.
A stay at the Shady Dell trailer park in Bisbee, Arizona, USA, is a step back into the 1950s. Expect leopard carpets, martini glasses, vintage radios playing a 1950s line up and televisions broadcasting in two colors. There's also a diner on site.
Every year, Canada's Hotel de Glace in Quebec, Canada is re-carved using 500 tons of ice and 15,000 tons of snow. The current manifestation has 36 rooms, a chapel, nightclub, saunas and a bar that serves cocktails in ice glasses.
Those that brave a night in the ice claim the sleeping bags provided keep them toasty. But book fast, as the hotel will close when warm weather returns in March.
The Crane Hotel in Harlingen, an hour's drive from Amsterdam, is a dockside crane converted into a luxury "hotel" room for two. There are vast views of the docks, breakfast is delivered from a lift and visitors can even maneuver the crane from the driver's cabin.
The Utter Inn in Vasteras, near Stockholm, Sweden also only sleeps two -- this time three meters underwater. Guests arrive at the port of Vasteras, sail out onto lake Malaren in an inflatable boat, and then are left alone.

Artist duo L/B (Sabina Lang and Daniel Baumann) designed Hotel Everland as "the subjective dream of a hotel." This one-room establishment has faultless design, "steal-me" gold-embossed towels, breakfast is delivered to the door and a record collection stands at guests' disposal.
The hotel also moves. Hotel Everland first rested on the shores of lake Neuchatel in Switzerland, then Leipzig, Germany and, until June, it is in Paris, perched on Le Palais de Tokyo with an unbeatable view of the Eiffel Tower.

Do you know of any other quirky hotels? Tell us about them. Sound Off below.
E-mail to a friend