NEW YORK (CNN) -- New York City's mayor helped Capt. Chesley "Sully" Sullenberger and his four crewmates from US Airways Flight 1549 celebrate a weekend of press conferences, television interviews and grateful reunions by presenting them with the keys to the city Monday.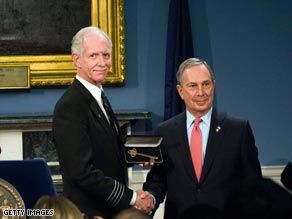 Capt. Chesley "Sully" Sullenberger, left, shakes hands Monday with New York Mayor Michael Bloomberg.
The keys went to flight attendants Doreen Welsh, Sheila Dail and Donna Dent; First Officer Jeffrey Skiles and Sullenberger, who safely guided the plane to a smooth landing in the river.
Mayor Michael Bloomberg introduced the crew to a round of applause from reporters, saying, "It is now my great pleasure to introduce five real American heroes -- the crew of US Airways Flight 1549."
The crew answered reporters' questions ranging from their thoughts and concerns before the moment of touchdown to how they're coping with their newfound fame.
Both Sullenberger and Skiles also stressed how their incredible landing has affected the airline industry as a whole.
"I've learned that this has meaning for ... people in the airline industry," Skiles said. "I've talked to a lot of people ... and this seems to have meaning for them personally. This seems to have people all over this country walk a little taller, be a little prouder when they come to work."
Sullenberger added, "I feel a great obligation to my co-workers and all aviation professionals ... to be chosen by circumstance to be a temporary spokesperson and represent them as well as I can."
Hero pilot on 'Larry King'
Watch the heroic U.S. Airways pilot and crew in their first, live prime-time interview.
Tuesday, 9 p.m. ET on CNN

Most of the crew members seemed eager to get back in the air. Sullenberger told reporters that he has not piloted a plane since the event, and he is looking forward to getting back to his profession.
US Airline Pilots Association spokesman Capt. James Ray and Association of Flight Attendants-CWA President Mike Flores also were on hand for the event. Flores praised the skill and determination of the first responders who rushed to the floating plane and helped secure the safety of all those aboard on that frigid day in January.
The honor came just a few hours after Sullenberger and his crew made appearances on ABC's "Good Morning America" and CBS' "The Early Show." Both programs featured reunions for the crew -- "The Early Show" reunited the crew with the people who came to their aid that day, while GMA reunited them with several grateful passengers from the flight. Sullenberger also spoke with CBS' Katie Couric on Sunday evening for "60 Minutes."
The keys were presented almost a month after Sullenberger and his crew landed the damaged aircraft safely in the Hudson River. All 155 passengers and crew members on board survived the incident.

Earlier this month, the National Transportation Safety Board said both of the plane's engines contained the remains of birds, confirming the pilots' report that the engines had shut down after colliding with birds less than two minutes after taking off.
The plane's flight data recorder "revealed no anomalies or malfunctions in either engine up to the point where the captain reported a bird strike, after which there was an uncommanded loss of thrust in both engines," the NTSB said.
E-mail to a friend

CNN's Kristen Hamill contributed to this report.
All About Air Travel • US Airways Group Inc.