(CNN) -- Ireland's friendly, helpful locals get high marks from visitors. Add dazzling scenery, rich history and a few hearty pints of stout, and you have a perfect trip to Ireland, according to a handful of iReporters.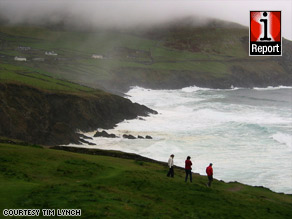 iReporter Tim Lynch took this photo on the Dingle Peninsula.
The country's lush scenery is an obvious crowd-pleaser. Here, iReporters share some of the other elements that made their trips unforgettable.
Countryside drives
"I think our best experience in Ireland was driving around (and getting lost in) the Irish countryside," wrote iReporter Elizabeth Avery, from Roscoe, Illinois. "The roads are narrow, not marked well (if they're marked at all) and sometimes filled with sheep (all the ingredients for a real adventure!)"
"The drive on the Dingle Peninsula was breathtaking and was the highlight of the trip," wrote Bill Demo of Ithaca, New York. "The coastline was stunning and the thought of the vertiginous drive over the mountain range that forms the backbone of the peninsula in a standard shift rental car on a road that wasn't much more than a cow path shall remain with me forever."
People and beer
"The greatest thing about Ireland would have to be the people," wrote iReporter Sudha Patel of Durham, North Carolina. "They're so genuine and friendly, and it certainly helps that they know how to pour the perfect pint of Guinness!"
Janie Dullard of La Mirada, California, was also impressed with the Irish. "One woman not only told us which was the correct bus route, but as we had to go into the store to buy Band-aids (too much hiking!), she came rushing in to the store to tell us that our bus had arrived!"
Don't Miss
Cliffs of Moher
Located in County Clare, these dramatic cliffs on Ireland's western coast rise 214 meters above the Atlantic Ocean. "Pictures simply don't do that natural wonder justice," wrote Tim Lynch, stationed with the Air Force in Ramstein, Germany.
"My best experience in Ireland was taking a bus tour from Galway to the Cliffs of Moher," wrote Stephanie Pope of Baton Rouge, Louisiana. "I only wish that the weather would've allowed me to take more pictures that day."
Tombs at Newgrange and Knowth
The passage tombs at Newgrange and Knowth were built nearly 5,000 years ago by Neolithic farming communities. "The Megalithic Passage Tomb in Newgrange and how it was built to illuminate the chamber during the winter solstice was incredible," wrote Anne-Marie Moriarty of St. Louis, Missouri.
"We think we are so advanced now, but look at what they built over 5,000 years ago!" wrote Tracie Dux of Hawaii.
Belfast
"[Belfast] was a beautiful, quaint yet bustling city that to me embodied a different side of Ireland than I expected to see and a different side of Europe as well," wrote Joseph Ryan Naffziger of Lutz, Florida.
"On a Black Taxi Tour I got to see the murals of both Protestant and Catholic neighborhoods as well as the International and Peace Walls," wrote Jillian Kruse of Wilmington, North Carolina. "We had both Catholic and Protestant guides who helped us to understand the conflict through their own experiences and views."
Traditional music
Madeleine Grace Hendrick of Charlottesville, Virginia, enjoyed a night of Irish music and dance at a pub in the town of Dingle. "The flute player played faster and faster, stamping out the beat, and the guitar matched it, punching the strings, banging the side of the guitar with his hand.
"Suddenly a man with a black T-shirt jumped up and started clogging. The bar was very crowded, but everyone pressed back to make a circle for him," she wrote. "It was the only time I felt like I saw something that wasn't completely charted out and toured to death."
St. Michan's Church, Dublin

The dry atmospheric conditions in the vault of this Dublin church have resulted in the mummification of the corpses. Jaclyn Kahn called touring the church "the most amazing thing" she's ever done. "We went on a tour and our zany tour guide brought us down to the crypts underneath the church.
"There we heard the history of the people buried down there, and then we got to shake hands with a 500-year-old mummy for good luck!"
E-mail to a friend