(CNN) -- The Economist Intelligence Unit will publish a report -- The Austere Traveller -- in February that will show that business travelers' expectations are changing.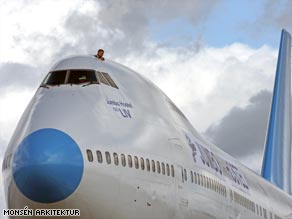 Budget with a twist: a former Pan Am Boeing 747 has been transformed into a hostel in Stockholm, Sweden.
Economic pressures mean executives now care less about luxury. Instead they are going back to basics.
In 2009 we will be traveling less, for shorter periods and trading down in hotels, airlines and restaurants.
On this month's show, in the face of austerity, we're all about solutions to the credit crunch.
In-flight Earners: The airline industry has had a tough year with rocketing fuel prices, bankruptcies and takeovers.
We look at some of the ways in which airlines have managed to raise a bit of revenue and weather the economic storm.
One example is onboard advertising. Telecommunications company AT&T and Canadian Tourism Board have placed their ads on the back of fold-away trays, overhead compartments, even on sick bags.
January sales: More than ever, hotels are feeling the pressure to keep their occupancy levels up.
The Hoxton Hotel has put on sale 500 rooms for $1.5 (£1) and another 500 rooms at $41 (£29). The first time £1 rooms went on sale last year, all 1,000 rooms were sold within 11 minutes.
Lapse of luxury: Six months ago, industry experts believed that the private jet sector was credit crunch proof. That is now not the case. The value of private jet firms is tumbling and firms are canceling orders. We take a closer look at the private jet sector.
Virtual reality: Corporate travel budgets have been cut back. If senior executives are downgrading, middle management and lower aren't traveling at all and are video conferencing instead.
There have already been incredible technological advances in video conferencing through tools such as teleprescence that brings breathtakingly-real images of people into rooms via plasma screens.
Musion has now developed an even better solution: holographic conferencing. Richard Quest interviews the creator from Germany about the new system and how it will offer solutions to business travelers.
The jumbo hotel: It's not all doom and gloom. Business travelers can still search for bit of effervescence in their trips even when the purse strings have been tightened.
Take the Jumbo Hostel next to Arlanda Airport in Stockholm, Sweden. This is the first aircraft in the world to be converted into a hotel. The former Pan American Boeing 747 has been re-designed to hold 25 rooms, each with a bunk bed, an overhead luggage compartment and a flat-screen TV. The best room, of course, is in the cockpit.
CNN's Adrian Finighan spends a night at the 747 hostel.
E-mail to a friend