(CNN) -- U.S. Airways has sent a check for $5,000 to each passenger who was on the plane that crashed in the Hudson River last week, saying it will be months before they receive any of their possessions that were on the plane and are recoverable.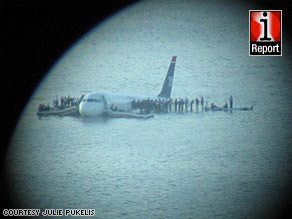 iReporter Julie Pukelis used a camera and telescope to get this view of the crash scene in the Hudson River.
"The National Transportation Safety Board has now begun their investigation of this accident, and we are offering our full participation and cooperation," airline executive Kerry Hester wrote in a letter accompanying each check.
"Investigatory protocol requires that the aircraft and all of its contents must be examined and weighed prior to releasing any items onboard in order to verify the weight and balance on the aircraft. ... The process is to weigh all items in their current state, dry them for eight weeks and then weigh them again," Hester wrote.
"This means we cannot return your items to you until the NTSB recovers and releases them, a process that will likely take several months. It is also possible that some items may be unrecoverable."
Don't Miss
The airline also included checks to reimburse the 150 passengers for the costs of their tickets. "This is an obvious reimbursement that we wanted to make quickly to each of you," the letter says.
Thursday's flight from New York's LaGuardia Airport to Charlotte, North Carolina, lost power in both engines shortly after takeoff, forcing an emergency landing on the Hudson River. All 155 people onboard survived.
E-mail to a friend

All About Air Travel • US Airways Group Inc. • U.S. National Transportation Safety Board