By Thom Patterson
CNN





(CNN) -- The title on Chris Doyle's business card reads "mad scientist," but he's not crazy, he's just crazy about snowboarding.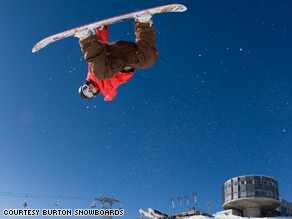 Olympic gold medalist Kelly Clark has been snowboarding since age 8.
Doyle decided one snowy day in New York to quit his job as a bank accountant and chase his dreams on the snowy slopes of Vermont.
Eventually, that spur-of-the-moment decision led to his job as senior product development specialist for Burton Snowboards. Although "riding" has come a long way in 40 years -- from being banned at most ski resorts to becoming an Olympic event in 1998 -- the sport still hasn't lost its edge, Doyle said.
"It still is pretty punk," he said by phone from his company workshop in Burlington, Vermont. "I've always sort of been one not to like rules."
The proportion of snowboarders to skiers in the United States is about 30 percent riders to 70 percent skiers, according to a survey of more than 130,000 skiers and riders by the Denver, Colorado-based National Ski Areas Association.
That 2008 survey showed the nation's most popular snowboarding region is the Pacific Northwest -- including Washington and Oregon -- where the proportion is 48.5 percent snowboarders, said spokesman Troy Hawks.
"The average age of riders has gotten a little older," said Hawks "You're seeing not only the typical twenty-somethings out there on snowboards, but I think you're also seeing older folks take up snowboarding. You're seeing fathers and even grandfathers, in some cases, grabbing snowboards and hitting the slopes."
Doyle, 47, earned his mad scientist nickname while helping develop, test and perfect new snowboards and binding technology.
"These days, learning to ride a snowboard is easier than it used to be," Doyle said. "Simplicity is what I like about it over skiing. There are no poles. The bindings strap on -- they don't come off. It's like skateboarding and surfing -- only it's smoother and it's more fun."
When he's not building, bending and breaking stuff in his development and testing workshop, Doyle often attends snowboarding shows, where he prepares and tunes up equipment for Burton's team of professional athletes.
Hannah Teter's Faves
Sierra at Tahoe, California
Park City, Utah
Okemo, Vermont
Snow Park, New Zealand
Baldface Lodge, British Columbia
At January's Winter Dew Tour at Mount Snow, Vermont, home-state Olympic gold medalists Kelly Clark, 25, and Hannah Teter, 21, took first and second place, respectively, in the women's superpipe.
In that event, riders zoom their boards from one side of a semicircular snowy ditch to the other.
Their momentum gets riders vertical up the pipe's 16-foot-high walls. They go airborne off each edge and perform twisty midair tricks with names derived from skateboard moves: frontside air, backside 520, frontside 720 and cab 360.
As snowboarders gear up for the 27th annual Burton U.S. Open from March 16 - 22 on Vermont's Stratton Mountain, Clark and Teter each offered their five favorite places in the world to ride and hang out.
Sierra at Tahoe
Teter's top place to ride is California's Sierra at Tahoe, where, she said via e-mail, she most enjoys shredding through the lightly packed snow moguls called "powder pillows" on "bluebird" -- or good weather -- days.
She spends some of her down time hanging in South Lake Tahoe.
"There's a hidden treasure that not many know about called Wide Awake Conscience Cafe," said Teter. "It features all organic food and drink. So yummy!"
Take your pick from the shop's menu, which includes paninis, tofu breakfast burritos, pastries, crepes, macaroni and cheese, teas, coffees and veggie burgers.
The cozy, comfy eatery -- which customers praise for its big portions -- boasts free Wi-Fi and desktop computers for customers.
Mammoth, California
When Clark dreams about riding in California she chooses Mammoth, which Ski Magazine dubbed No. 1 in terrain parks in October 2008.
According to the Mammoth Web site, the resort features seven terrain parks and three pipes. That's more than enough playground for the avid rider.
Park City , Utah
Teter put Park City among her top riding locations. The town is host of the annual World Superpipe Championships and riders rave about the area's natural and man-made terrain.
Kelly Clark's faves
Mount Snow, Vermont
Mammoth, California
Snow Park, New Zealand
Laax, Switzerland
Snowmass, Colorado
Park City also is host of January's Sundance Film Festival -- which brings many non-snowboarders to the city looking for lodging.
Originally a silver mining town, Park City is rumored to have more restaurants per capita than any other city, according to the town's Web site.
However, when she's looking to hang out, Teter said she heads to a place that might surprise you: Whole Foods Market.
Snowmass, Colorado
Clark's pick -- Snowmass, Colorado -- is highlighting its new chairlift this season, which moves as many as 2,000 people per hour up 2,200 vertical feet. Total travel time, according to the resort Web site, is a little more than nine minutes.
Vermont: Okemo and Mount Snow
Also on Teter's list is a place that honors her Vermont roots: Okemo Mountain in the south central part of the state near Ludlow. Okemo's attractions include its family-friendly environment.
Several snowboarding schools dot the area and the mountain touts many terrain and halfpipe parks where riders can sharpen their trick skills.
When she's not on the slopes, Teter likes to stop by Tom's Loft Tavern, 300 Mountain Road in Ludlow. 802.228.5638
Clark also included a Vermont destination in her top five: Mount Snow, just down the road from her hometown of West Dover. "I always like coming back to Mount Snow in Vermont," Clark said via e-mail. "That is where I grew up."
In fact, according to Mount Snow's Web site, the venue was the site of Clark's first snowboard experience -- when she was in third grade.
Among Clark's favorite area hangouts is her parents' eatery, TC's Family Restaurant.
Snow Park, New Zealand
Clark and Teter both said Snow Park, New Zealand, ranks among their top riding spots. The Southern Hemispheric snow season at this "freestyle mecca for snowboarders and skiers" begins in June and lasts through October, according to Snow Park's Web site.
The park, which opened in 2002, touts itself as the world's first dedicated freestyle terrain park, an area specifically designed for snowboarders and skiers to learn and perfect trick moves.
Teter's Snow Park area hangout? The Kai Whakapai Café and Bar on the south shore of Lake Wanaka. Known by residents as simply "The Kai," the restaurant prides itself on producing everything it serves on the premises, including its locally famous rye bread and banana cream pie.
Laax, Switzerland
Clark listed Laax, a snowboard mecca and site of her halfpipe title victory at January's Burton European Open.
Baldface Lodge, British Columbia
Teter's final top-spot is Canada's exclusive, isolated Baldface Lodge in the heart of the Selkirk Mountains. This "backcountry" destination is for serious riders only -- with no beginners allowed.
From the airport in nearby Nelson, guests are taken by helicopter for three- and four-day stays at the lodge, which offers gourmet food Teter described as "soooo good."
All-inclusive stays at the lodge are priced on the Web site from $1,350 to $2,950 ( about $1,700 Canadian to about $3,700 Canadian). Enjoy the massages, sauna and rooms in either the lodge or several chalets.
Guides and snowcats transport skiers and riders each morning to the powdery slopes, where anywhere from six to 12 runs can fill up a day.
In Nelson, Teter recommended hanging out at the "awesome" Wild Nectar Juice Bar & Restaurant. 602 Josephine Street; 250.352.1988
For accommodations in Nelson, Teter suggested the historic Hume Hotel. "Check out room 335," she wrote. "It's haunted!"
E-mail to a friend

All About Snowboarding • Skiing • Lake Tahoe