(CNN) -- Cirque du Soleil founder Guy Laliberte, sporting a foam clown nose, landed back on Earth after a $35 million working vacation at the international space station.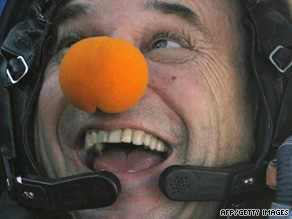 Guy Laliberte, wearing a foam clown nose, smiles after landing Sunday in Kazakhstan.
The Canadian billionaire arrived in Kazakhstan on Sunday aboard a Russian spacecraft, along with Russian cosmonaut Gennady Padalka and American astronaut Michael Barratt, according to Russian state news agency RIA Novosti.
Laliberte had blasted off September 30.
Laliberte is the first Canadian private space explorer, and his journey was described by Cirque du Soleil, a popular show that merges acrobatics and music, as "the first social/artistic mission in space."
He used the trip to raise awareness about the need for safe drinking water worldwide. On Friday, Laliberte participated in an event sponsored by his One Drop foundation that took place in space and 14 cities worldwide. The event featured famous political and entertainment figures spreading a message of "water for all, all for water."
Laliberte turned his talents of stilt-walking and fire-breathing into the world- famous Cirque du Soleil.
He founded One Drop in 2007 to fight poverty around the world by providing widespread access to safe water.
He was dubbed the first clown in space, because of the spongy nose he donned during the trip.
The group, which returned aboard a Soyuz capsule, were members of the 19th expedition to the international space station.
E-mail to a friend

All About International Space Station