KENNEDY SPACE CENTER, Florida (CNN) -- NASA on Sunday postponed the launch of space shuttle Endeavour for the second straight day due to concerns over weather.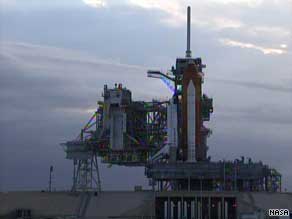 Space shuttle Endeavour is shown Sunday shortly after the day's launch was called off.
Storms near the Kennedy Space Center prompted Sunday's postponement, the space agency said. Sunday's launch was to happen at 7:13 p.m.
"We got the vehicle ready, and the weather unfortunately did not cooperate with us today," launch director Pete Nickolenko told shuttle commander Mark Polansky. "We're going to have to declare a scrub for today and try to bring the team back for another attempt tomorrow."
"We understand, and we'll be ready," Polansky radioed back.
NASA will next try to launch the shuttle on Monday at 6:51 p.m.

Watch launch director order the postponement »
The postponement is the second in two days. Eleven lightning strikes hit within a half-mile of the launch pad Friday night, prompting a postponement of Saturday's planned launch.

Watch lightning strike the shuttle launch pad »
"We need to be 100 percent confident that we have a good system across the board," Mike Moses, the space shuttle program integration manager, told reporters Saturday.

View behind-the-scenes images of Endeavour »
Endeavour's launch was postponed twice last month because of a liquid hydrogen leak.
Endeavour, carrying seven astronauts and a key component for Japan's Kibo science laboratory, is to head to the International Space Station for a 16-day mission. Five spacewalks are planned for the crew after the shuttle docks.

View an interactive of what mission will do in space »
The Kibo science lab, also called the Japanese Experiment Module, is Japan's first human space facility and has been more than 20 years in the making.

The mission's primary goal will be to install what amounts to a porch in space. Endeavour is carrying in its cargo bay two platforms for the Kibo lab, which is already part of the space station. One platform rides up and back on the shuttle, while the other will stay permanently fixed to the Kibo laboratory for scientific experiments that require exposure to space.
For many of the 16 days, the station will resemble a construction site, except that astronauts will be in space suits instead of hard hats and operating robotic arms instead of cranes. And just like at a job site, it will all be going on at the same time.
E-mail to a friend

CNN's John Zarrella and Dick Uliano contributed to this report.
All About Space Shuttle Endeavour • NASA